Fall is the perfect time for team building activities. It's an opportunity for teams to come together, foster stronger bonds, and have fun! Whether you're looking to plan an outdoor adventure, plan a seasonal game, or do something creative, the fall team building activities on our list offer plenty of opportunities for team members to communicate more openly, collaborate effectively, and engage with one another. By embracing the season's spirit, fall team building activities can revitalize your team dynamics and pave the way for greater success!
The Charm of Fall: A Unique Atmosphere for Team Building
Fall is the ideal season for enhancing collaboration and hosting fall team building activities comes with a plethora of advantages. Here are some reasons why the fall season is ideal for team bonding:
Seasonal Themes: The fall season offers a variety of themes that can be incorporated into team building activities, adding an element of fun and novelty.
Mild Weather: Fall typically brings milder temperatures, making outdoor activities more enjoyable for everyone involved. Unlike the scorching heat of summer or the bitter cold of winter, the moderate weather in fall creates a comfortable and pleasant experience! Outdoor fall team building activities are the perfect way to encourage active participation and engagement before the colder months.
Emotional Connection: Fall often provokes a sense of nostalgia and sentimental feelings because of traditions like Halloween and Thanksgiving. If you get coworkers to engage in activities that resonate with their personal experiences and cultural backgrounds, the emotions conjured up often help promote a deeper connection among team members.
Time for Reflection: As the year approaches its end, fall is a natural time for reflection and goal setting. Fall team building activities during this season are the perfect opportunity to evaluate past accomplishments and set collective objectives for the future. The shared reflection amongst the team fosters a stronger sense of purpose and direction.
Flexibility in Activities: Fall offers a wide range of both indoor and outdoor activities, which accommodates diverse preferences. Whether it's a team hike, a festive indoor workshop, or a virtual team building experience, the fall season allows for flexibility in planning activities that cater to the team's interests and needs.
Unveiling the Best Fall Team Building Activities
The fall months are a great time to engage in team building activities that leverage the unique elements of the season. From outdoor adventures to seasonal crafts, or from charitable endeavors to virtual gatherings, these activities promote teamwork and communication and help create lasting memories and a sense of unity among corporate team members. By leaning into the true spirit of fall, these seasonal activities lay the foundation for a stronger, more united team that can tackle challenges and achieve success together.
Fall team building activities also provide a break from the normal day-to-day routine and offer a chance for coworkers to unwind before the upcoming holiday season kicks into gear. Your coworkers will thank you if you help to improve morale, reduce stress, and increase team members' motivation before the holidays. Also, engaging in fall themed team building activities maximizes the season's characteristics by reinforcing teamwork, creativity, and personal growth. All of these will undoubtedly lead to stronger employee engagement and a revamped team spirit.
Finally, hosting fall team building activities demonstrates an employer's commitment to the well-being and overall morale of their team. When you do things that create such a positive and inclusive workplace culture, everyone is happier and more productive. Employees become closer and team building is further nurtured through shared experiences, so it all builds together! Use our fall team building ideas to leverage the season's symbolism and create memorable and impactful experiences that strengthen teamwork, communication, and overall workplace dynamics.
Innovative Fall Virtual Team Building Activities
These virtual fall team building activities are a great way to bring remote teams closer together. Each of them has been adapted to the virtual environment to foster better communication and promote a positive team dynamic. There is no reason that remote teams cannot enjoy the benefits of team bonding just like their in-person counterparts! Try to implement one of these ideas this fall to improve morale and enhance collaboration amongst your team, even when working from a distance.
Virtual Trivia Challenge
Celebrate the autumn season, and all things fall, by setting up a virtual trivia challenge with fall-themed questions! Start by gathering your colleagues online using a video conferencing platform like Zoom or Microsoft Teams. We suggest playing in smaller teams to help create a bit of friendly competition amongst the teams. Encourage each business group to come up with creative team names as the first team building exercise. To keep it themed, consider sticking to trivia questions that revolve around fall-related topics, like iconic seasonal traditions, all things pumpkin, famous autumn movies, or even historical events that took place during this time of year. At Escapely, we have a variety of fall-related questions and categories to choose from in our virtual trivia games. But if you choose to host your own, remember to keep the questions diverse in difficulty to keep everyone engaged. We also recommend a timed format to add an extra level of excitement, ensuring fast-paced and intense (friendly) competition! And if you wish, you can spice things up with picture rounds featuring fall landscapes or familiar fall-themed objects.
To increase participation, you can provide some festive prizes for the winning team! It always boosts overall motivation and makes the game even more fun. With the perfect blend of laughter and knowledge, a virtual fall trivia challenge promises to be a perfect addition to your list of fall-themed virtual team building activities!
Spooky Storytelling 
Spooky storytelling is a must-have on your calendar of fall team building activities. It is easy to execute virtually! We recommend having everyone participate from a darker location than their home office to set the mood. Begin by setting the eerie ambiance with dim lighting and perhaps some spooky decorations or fun virtual backgrounds. Assign a storyteller to start the tale with a spine-chilling opening. Then, pass the storytelling baton from team member to team member, each contributing to a part of the narrative. This activity promotes active listening, creative thinking, and improvisation as participants build upon each other's contributions, weaving a captivating and suspenseful story to life.
To enhance the teamwork aspect, encourage participants to work together to maintain continuity and coherence in the plot. Team members will engage in problem-solving as the story unfolds to connect plot points and deliver unexpected twists. By the end of the activity, your whole group will have crafted a collective story that showcases the team's collaborative prowess and storytelling skills. This spooky storytelling exercise brings out everyone's creativity and strengthens team bonds as members collaborate in an imaginative and engaging manner! Even better, if you choose to do this in person, it's easily adaptable. Just gather your team in a dimly lit place or, if you really want to go all in, around a campfire!
Virtual Escape Rooms
Gather your team for a fun-filled onlne fall adventure with a virtual escape room! It's one of the most popular team building exercises year round, and there is no better time to do it than fall after everyone settles back in from the summer. We suggest choosing a company that offers virtual escape rooms designed specifically for the virtual environment, rather than one adapted to be virtual after the fact. For example, our virtual escape rooms were designed to encourage collaboration across video conference with puzzles and challenges that teams must communicate and work together to complete. It's also fun! With a number of scenarios to choose from, these virtual escape rooms are designed to bring team members together. For a fall-themed escape room, you can choose this one for Halloween, which offers an exciting and immersive storyline!
Virtual escape rooms go deeper because the puzzles and challenges require sharp problem-solving skills, keen observation, and creative thinking to unlock clues and escape. Participants are able to see all of their teammates on screen and draw on the puzzles, which adds an extra layer of interaction. As participants work together, they strengthen their communication and teamwork, promoting a sense of camaraderie! You will also need to choose whether you want your team to work independently or be guided by a live moderator (we offer both). Whoever you choose, a virtual escape room is a must on your list of fall-themed virtual team building activities!
Online Pumpkin Drawing Contest
Do you have any would-be artists on your team? Organizing an online pumpkin drawing contest is a fantastic way to engage them and foster both creativity and teamwork for everyone! It's definitely something to have on your list of fall team building activities. First, set up a meeting link on your favorite video conferencing platform and send out an invite to your team. Include a list of all of the materials participants will need so that everyone comes prepared to participate. For example, they will need drawing materials such as paper, pencils, colored pens in fall colors, and a device with access to the internet so they can submit their entries.
So that you get a variety of entries, encourage participants to think beyond traditional pumpkin designs and explore unique concepts. Suggest themes like "Pumpkins in Space" or "Superhero Pumpkins." You can even consider introducing a collaborative category where multiple participants have to work together virtually to create a single pumpkin masterpiece! By incorporating elements that celebrate both creativity and teamwork, an online pumpkin drawing contest is an event that can help bring people together from different corners of the virtual world. At the end, you can even host a contest! We suggest that judging criteria focuses on originality, artistic skill, and adherence to the theme.
Interactive Online Harvest Festival
One way to celebrate the season is with an online harvest festival, which combines a variety of different activities under one virtual "roof." It's a unique and engaging way to celebrate the fall season that gives employees many choices. It is sure to improve company culture. Held virtually, this event can be hosted to bring colleagues, friends, and/or community members together regardless of any geographical constraints. Participants can experience all the festivities from the comfort of their own homes! You can host this over Zoom and hold different activities in different rooms so that participants can move around and try different things.
Activities can include virtual cooking classes where participants prepare seasonal recipes, a digital farmers' market where local vendors showcase their produce and crafts, and online workshops on traditional crafts like wreath-making or pumpkin carving. Collaborative projects such as a virtual art exhibition featuring artworks inspired by the harvest theme can also be organized, or a friendly online trivia competition focused on seasonal knowledge. You could even incorporate a music event in which team members can work together to curate playlists of fall-themed music. Through these types of activities, participants not only bond over shared experiences but also enhance their collaborative skills by working on projects and engaging in friendly competitions together, ultimately strengthening their bond as a team.
Exciting Fall In-Person Team Building Activities
The summer is a common time for employees to take PTO, so there is usually someone out of the office at any given time. The fall, when kids return to school and employees tend to stay put, is a great time to bring employees back together for in-person team building activities. Depending on where you are in the country or the world, you will have slightly different weather, but for many people, fall strikes the perfect weather balance – cooler than the hot summer months but not yet freezing cold! From pumpkin carving contests that ignite creativity to harvest picnics that allow for more laidback interactions, the experiences listed here will help foster stronger relationships amongst your employees. We have organized this list into two sections, one for outdoor activities and one for indoor activities.
Fall-Themed Outdoor Activities
Because of the weather just discussed, fall is a fantastic season for outdoor employee fun! Engaging in fall team building activities that take advantage of the outdoors has a number of benefits that help enrich team dynamics and promote a more cohesive work environment. The outdoors makes people feel relaxed and refreshed, and the shared memories will bond your team together! You can do outdoor team-building games or even a fall hike to hone in on coordination, strategic thinking, and teamwork skills. If you really want to push the envelope, you could host a fun run/walk to get the blood flowing. Whichever outdoor activity you choose, fall outdoor team building activities will cultivate a sense of unity, rejuvenate team spirit, and provide a refreshing break from routine.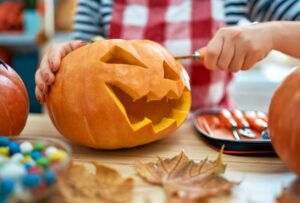 Pumpkin Carving Contest
Hosting a pumpkin carving contest is a fun way to tap into the creativity within a group. If this is on your list of fall team building activities (it should be!), here is a step-by-step explanation of how to organize one for your team.
Preparation:
Announcement and Sign-Up: Inform your team about the contest well in advance through emails, posters, or digital platforms. Encourage them to form teams ahead of time (or go solo if preferred) and sign up for the event.
Materials: Communicate the materials participants will need, including pumpkins, carving tools, stencils (if desired), and a safe working area. Participants can either provide their own materials or, if you would like to do the heavy lifting for them, you can organize the supplies and bring them to the office!
Setup:

Arrange a designated space for the contest to take place, make sure there is good lighting and ventilation. Set up individual workstations with tables, carving tools, and cleaning supplies.

Time Limit:

Set a time limit for the carving process. A timer adds an element of excitement and encourages participants to work efficiently.

Judging Criteria:

Define the judging criteria. Consider creativity, craftsmanship, originality, and adherence to the theme (if any).

Carving Session:

Allow participants to unleash their creativity by carving their pumpkins. Encourage interaction and collaboration as teams discuss and brainstorm ideas for their designs.
Judging Panel:

As the carving time concludes, assemble a judging panel of impartial individuals with an eye for creativity and craftsmanship!

Presentations:

Have each team (or individual) present their pumpkin, explaining their design concept and their creative process. This provides insight into each team's collaborative process and creative dynamics.

Awards:

Announce winners based on predefined judging criteria. Consider categories like "Most Creative," "Best Craftsmanship," and "Most Original Design." Offer fun prizes that tie into the fall theme!
Showcase and Display:

Display all the carved pumpkins in a designated area for everyone to enjoy and admire!
A pumpkin carving contest is perfectly on-theme and is one of the most enjoyable fall team building activities. It promotes team bonding, encourages diverse perspectives and cultivates a sense of unity. Don't forget to capture a group photo of participants alongside their creations as a memento of the event!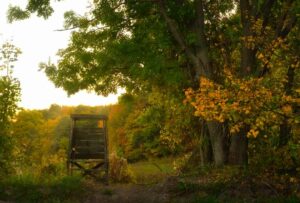 Autumn Scavenger Hunt
Organizing an outdoor fall-themed scavenger hunt is an engaging way to promote team building while embracing the season's spirit. First, choose a suitable outdoor location with natural elements like colorful leaves, pumpkins, and scenic spots to set it up. Develop a list of fall-themed items or clues that teams need to find or solve, incorporating the surrounding environment. To turn it into a team contest, divide participants into smaller teams. Be sure to pair coworkers with other employees they do not normally work with to encourage diverse collaboration and communication. Provide each team with the list of clues or riddles, along with a designated area to explore.
As teams work together to decipher clues, locate hidden items, and complete challenges, they work on their problem-solving skills, critical thinking, and strategic planning. Communication is key as team members share ideas, delegate tasks, and navigate the hunt's intricacies. The hunt will not only promote some friendly competition but also camaraderie. Once teams are done, consider a debriefing session to encourage them to reflect on the overall experience. Highlight how effective communication and teamwork contributed to the success of the scavenger hunt. Having something like this on your list of team building activities not only allows everyone to get out of the office and celebrate the season, but also provides a valuable opportunity for team members to strengthen their communication skills!
Fall-Themed Indoor Activities
Indoor team building activities tailored to the season provide a cozy and creative way to enhance team building. As it starts to get chilly outside, an indoor activity might be just what your team needs. In addition to the ideas below, you can also consider a fall-themed movie night, a trust fall, or trivia event with fall-related questions!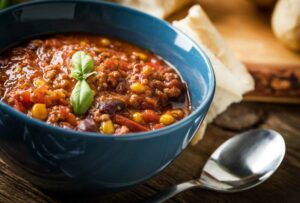 Cook-Off With Autumn Ingredients
Arranging a fall-themed chili cook-off is a fantastic way to infuse creativity, collaboration, and fun competition into your fall team building activities. To set up this activity, first, choose a date and location, whether it's in the office kitchen, a communal space, or even a virtual event. Encourage team members to form small groups or pairs to create their chili recipes. You can let everyone's imagination run wild, but ask them to embrace the fall season by incorporating ingredients like pumpkin, butternut squash, apples, and warming spices. To make it easier, you might even want to provide a list of fall-inspired ingredients and let participants choose their favorite combinations. On the cook-off day, participants will bring their chili creations into the office for tasting and judging. It's always a hit!
During the tasting and judging phase, team members can sample each chili and vote for categories like "Most Creative," "Best Use of Fall Ingredients," and "Spiciest Chili." The friendly competition creates a lighthearted atmosphere where participants cheer on their colleagues. Overall, a fall-themed chili cook-off not only engages the team in a culinary adventure but also cultivates creativity and provides an outlet for friendly competition in a way that embraces the spirit of the season!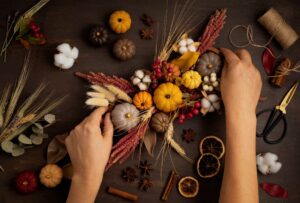 DIY Fall Décor Competition
Setting up a DIY fall décor competition is another fantastic way to encourage creativity and team bonding. It is also an opportunity to wrap a few different fall team building activities all into one event. Here is what you need to do: First, choose a date and location for the competition. Consider the office, an outside venue, or hold it virtually. Then, decide on the competition categories, such as "Best Fall Wreath," "Most Creative Pumpkin Design," or "Coziest Autumn Table Setting." Create an announcement that outlines the competition's details, rules, categories, and judging criteria. So that employees will start thinking about their creations, you should share this with your team ahead of time and provide everyone with a list of recommended fall materials like pumpkins, gourds, leaves, twigs, ribbons, candles, and more. Set up a designated area for materials, ensuring that each team has access to a variety of options.
When it's time to decorate, divide participants into teams, either by randomly selecting groups or allowing them to choose their own teammates. Just make sure teams are balanced in terms of skills and expertise. Give teams a set amount of time (e.g., 1-2 hours) to design and create their fall décor items based on the chosen categories. To make this a deeper team building exercise, encourage creativity and out-of-the-box thinking by allowing teams to incorporate both traditional and unique elements into their designs.
Finally, set up a judging panel to evaluate the décor items based on creativity, execution, use of fall elements, and adherence to the category—and of course, award prizes for each of the categories! To stick with the autumn theme, consider offering fall-themed prizes like pumpkin spice treats, cozy blankets, or autumn-scented candles. Once the crafting time is up, have each team present their fall décor items to the rest of the group. Allow teams to explain their inspiration, design process, and the significance of their creations!
Embrace the Season: Plan Your Fall Team Building Now
As you are now well aware, fall team building activities offer a number of different benefits. From outdoor adventures to indoor challenges that ignite creativity, these activities encourage open communication, problem-solving, and a shared sense of achievement. The unique charm of fall, with its cozy ambiance and seasonal ingredients, creates a backdrop that enhances the overall experience. As the days get shorter and the air gets crisper, why not take advantage of the season's spirit and create memorable experiences that will leave a lasting positive impact on your team? So, don't wait any longer – start planning your next event and watch your team thrive!