SEARCH FOR CLUES

SOLVE PUZZLES
CRACK CODES

FIND LIVE ACTORS
RACE TO THE FINISH
The ultimate clue-solving
SCAVENGER hunt event
Escapely Scavenger Quest is one part escape room, one part scavenger hunt, and one part amazing race. Work with your team to find clues, solve escape-room-style puzzles, and even interact with real actors!
Scavenger Quest is a live scavenger hunt on steroids. It's not just about finding locations, taking pictures, and checking items off of a list. The physical clues you find along the race course contain information you need to crack codes and advance to the next stage of the game. You will also interact with people and actors who may ask you to complete challenges or give you a verbal clue!
As you solve the puzzles, enter the solutions on the app to find out where to go next! If you need help, hints are available anytime – experienced players can challenge themselves without hints while first- timers can take all the help they need.
But choose wisely, because each hint comes with a penalty that is factored into your final score. At the end of the scavenger hunt race, meet at the afterparty to check the leaderboard and see how you stacked up against the other teams!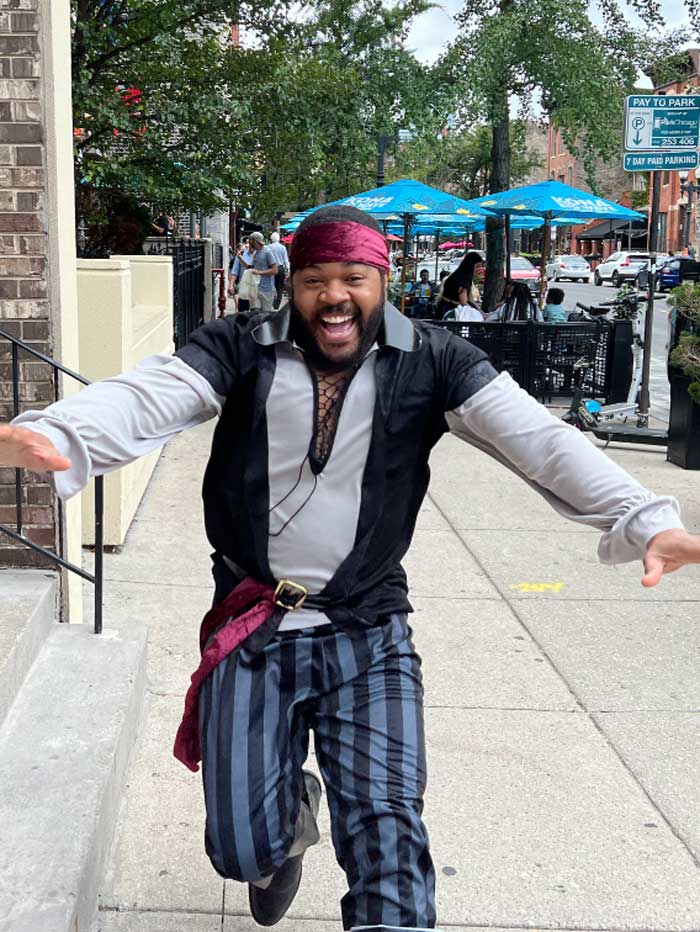 "
The clues and puzzles are so well integrated throughout the city!
- Ben Gould, New York City Quest (Brooklyn)
how scavenger quest
events work
Find clues hidden throughout the race course that help you crack your next code. It's an in-person scavenger hunt, so you might find clues hanging from the ceiling of a business, hidden in a park, placed in a store window, or even outside on the street!
As you solve each stage of the game, the app will direct you to your next location and give you a clear idea of where to look for your next clue. The storyline on the app will hint at what to look for in each location, but your team will still need to wear your detective hats.
Each leg of the scavenger hunt event starts with a puzzle that reveals the location of your first clue. Throughout the adventure, work with your team to solve escape room-style puzzles that lead you from one location to the next, all within walking distance.
The clues you find along the way coordinate with puzzles on the app to solve for code words and phrases. Enter the solutions to find out where to go (or who to find!) to continue your amazing race adventure.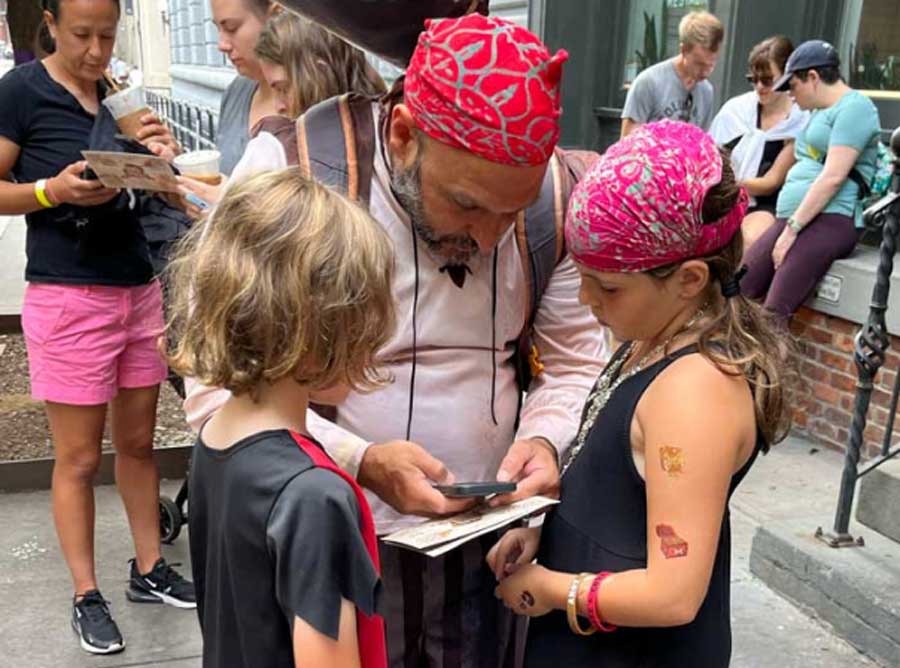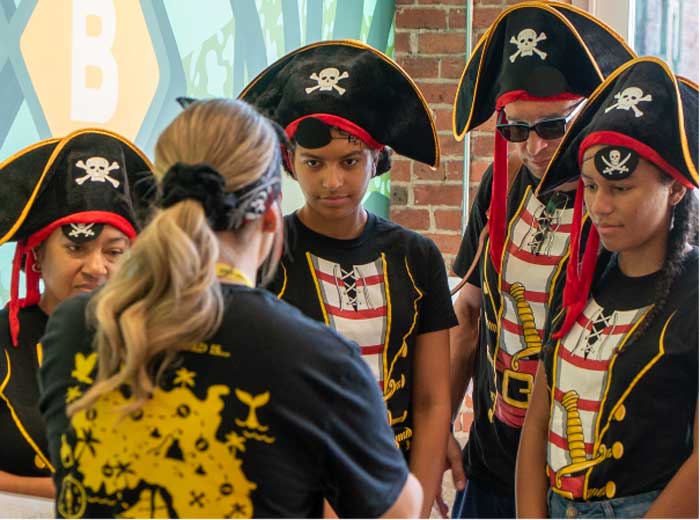 Clues and challenges in this scavenger hunt race take many forms. Some of the challenges you encounter will involve escape room-style puzzles, some will involve searching for clues, some will involve interacting with real people – and some might involve all three!
We can't give too much away, but this is unlike any amazing race scavenger hunt you have seen before. You will need to give and receive verbal clues several times throughout the race!
Sync with your team on our app so that you can all move through the event together. Everyone should login individually to immerse themselves in the adventure and view the content on their own device. However, when one player on your team enters a solution, everyone is able to advance!
Teams can have up to six players, and you can even play solo if you would like. We also encourage solo players to come early to registration to connect with other solo players who might wish to form a team.
This amazing race style event is a contest – how could it not be? – so you will want to work with your team to finish the quest as quickly as you can. To kick off the event, our enthusiastic race team will explain the rules and then countdown to go time!
Your team's final score is a combination of your total time and any hint penalties taken along the way. At the end, the leaderboard will show the true champions! Does your team have what it takes?
Scavenger Quests are all in walking distance within a certain neighborhood of each city. No other transportation is allowed! However, this is not an athletic race. The exact distance depends on the event, but is usually from 1.5-3 miles and we take hills into account when creating the race course.
Locals will have a chance to discover new parts of the neighborhood and hidden gems they might have never noticed before, while tourists will get to explore a new city in the most fun way possible!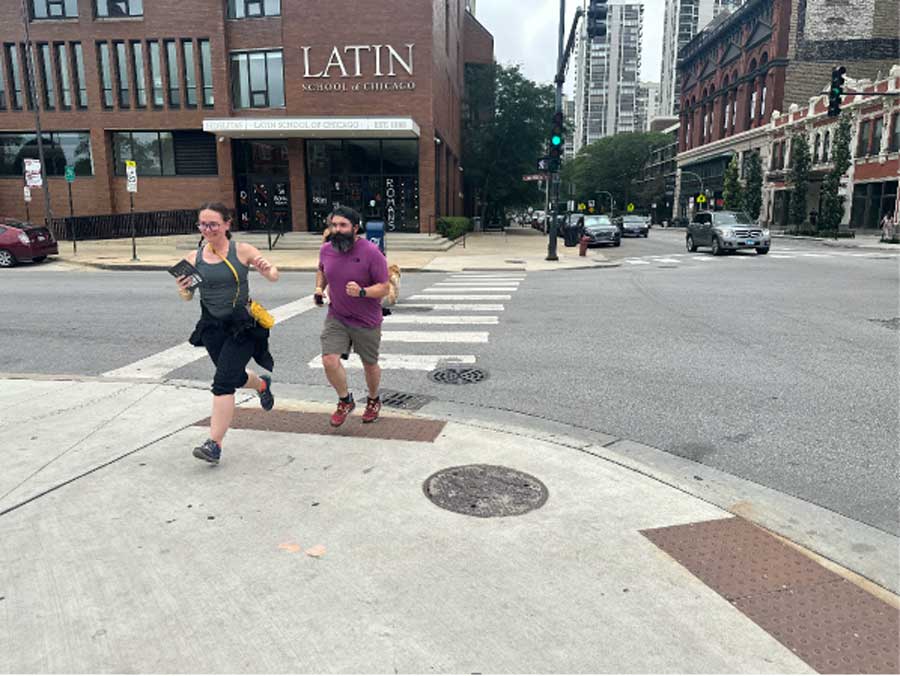 scavenger quest
coming soon to a city near you
2023 dates
---
Philadelphia
September 16
---
Customer reviews
What our customers are saying
"Can't wait for next year's season!"
We had the best time rushing around and solving clues and racing the teams around us! We discovered a lot of new stores and attractions we had never seen before. Can't wait for next year's season!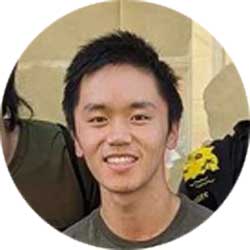 William Li, Seattle
"Clues and puzzles were integrated in the city!"
The clues and puzzles were integrated throughout the city so even if puzzles aren't your thing, if you like exploring new places, this is definitely something you have to check out. It exceeded our expectations!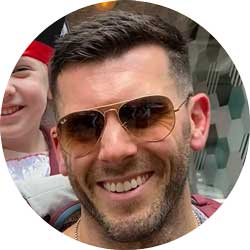 Ben Gould, New York
"Our favorite part was finding the pirate!"
I played with my mom and we loved how everyone we encountered played along and was kind of in on it. Our favorite part was finding the pirate by the lake! We would definitely do it again!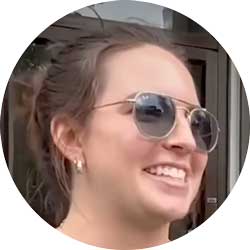 Taylor, Chicago
"We had SO much fun exploring the city."
We had SO much fun exploring the city. We loved that even though it was a race, we still got to enjoy some food and drinks along the path! We are hoping to bring in the trophy next year!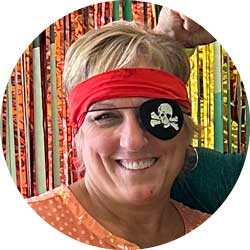 Tricia Mosher, Seattle
"We got so lost in the puzzles."
We got so lost in the puzzles we forgot we were moving around, but it was mental and physical. And the app was super easy to use.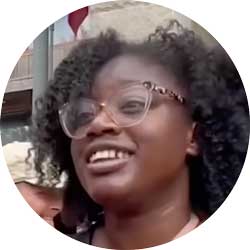 Raven and Dan, Chicago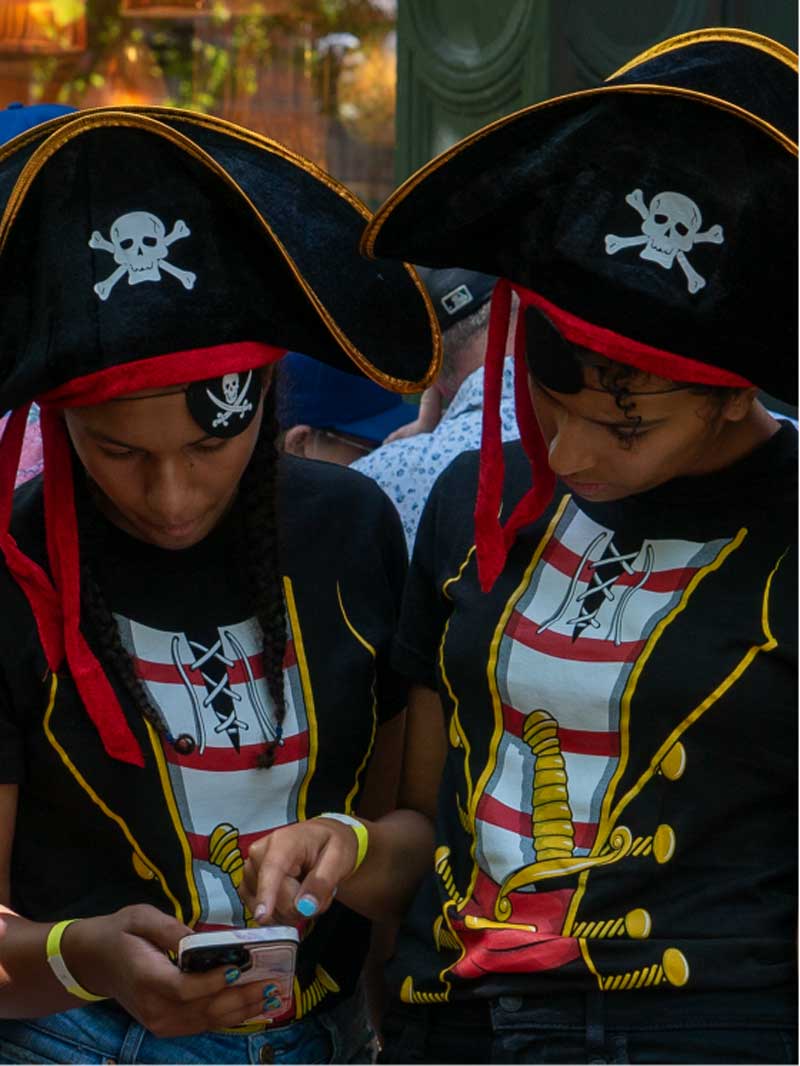 NEW THEME EACH SEASON
X marks
the spot
Long ago, four legendary pirate captains united their treasure and buried their gold in the faraway land of Fortune's End. Each captain held a magic key to the treasure and hid it away never to be found.
In this season's immersive outdoor scavenger hunt experience, race other teams to the finish line as you follow the footsteps of these legendary pirates!
Your mission: Scour the city, find the four magical keys, and track down the treasure! But beware…legend says the ghosts of these captains still haunt the area today, and they won't be happy with other swashbucklers trying to steal their fortune.
Does your team have what it takes to find the keys and claim the treasure?
User
Friendly app
Access our web app by scanning QR codes throughout the live scavenger hunt. It's easy and there is nothing to download – just activate the game with your unique access code, sync with your team, and you are ready to play!
View puzzles, read storyline, input answers, and get hints. As you solve each stage of the game, the app tells you where to go to search for your next clue.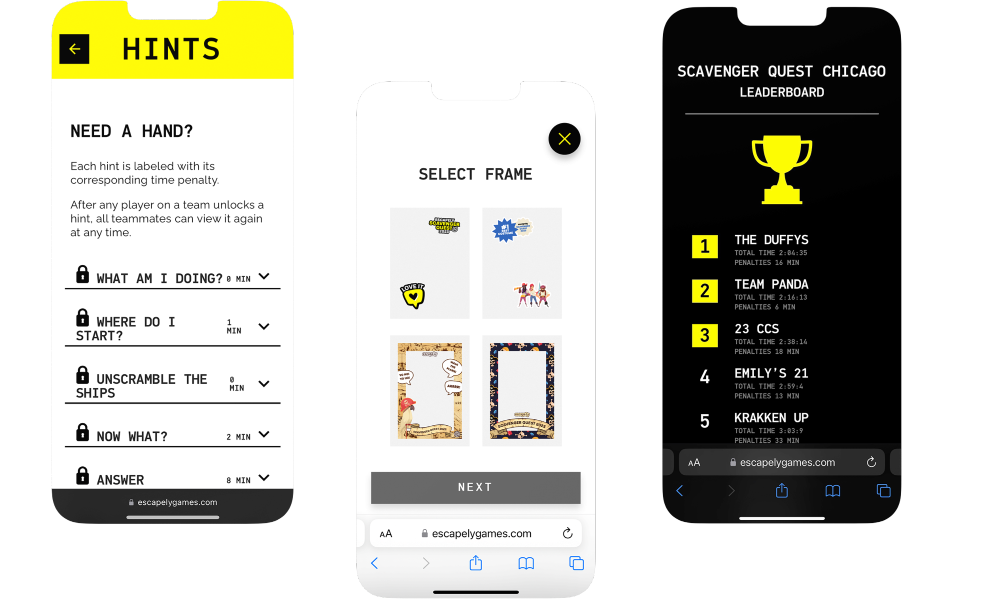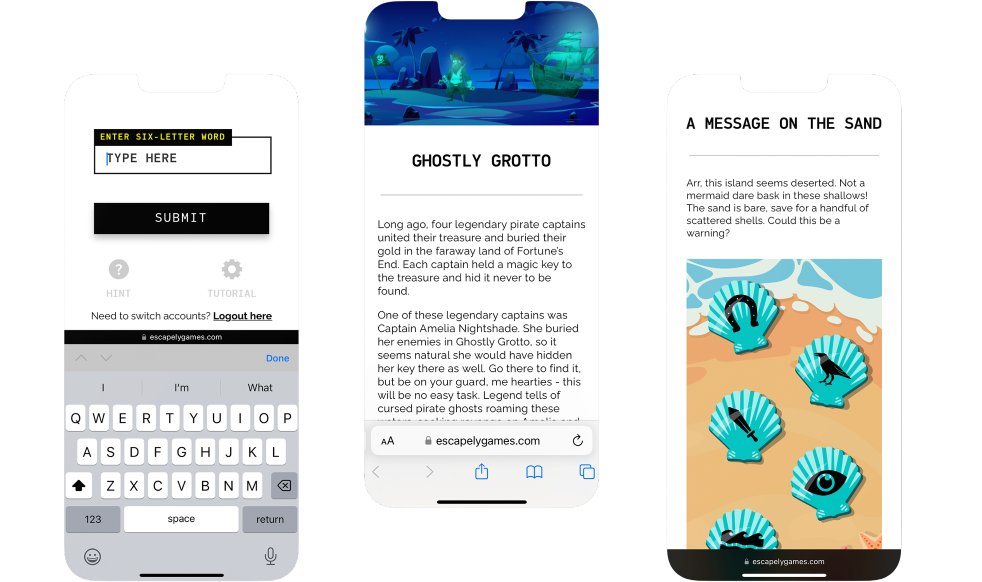 Hints available
anytime
We want everyone to get their money's worth, so we keep our Scavenger Hunt events challenging enough that most players will need some hints to help them along the way. Fortunately, hints are available on the app at any time, so anyone of any age and ability level can complete this scavenger hunt event.
Of course, you will want to choose wisely – each one comes with a time penalty to keep the contest fair! When you access the list of hints, you will be able to choose from options like "Need help getting started" and "Give me an example" as well as view the time penalty for each.
A SCAVENGER HUNT
FOR ANYONE
AND EVERYONE
Have you ever wanted to be on the Amazing Race? Do you love escape rooms? Are you looking for something fun to do with your family or friends? This in-person scavenger hunt is for you!
Touted as the scavenger hunt event that is actually what it promises to be, Escapely Scavenger Quest has gained a loyal following. The easy-to-use web app has a progressive hint system that makes the puzzles solvable by anyone but challenging for an expert, so adults, teens, couples, and families can choose exactly how they want to play.
All locations along the race course are family friendly, so players of all ages will enjoy the amazing race style scavenger hunt. At the same time, most players enjoy drinks before, during, and after the race. We even provide drink specials at registration and at the finish line!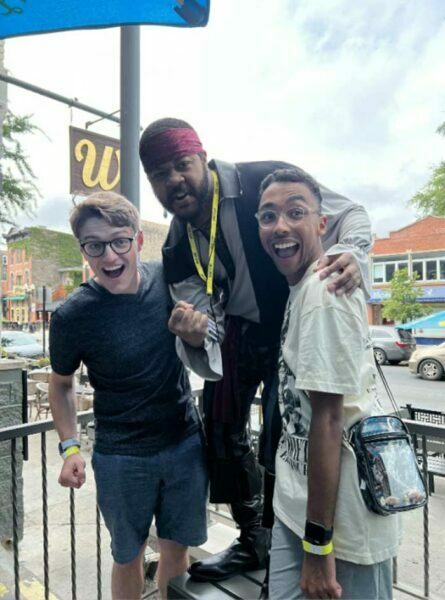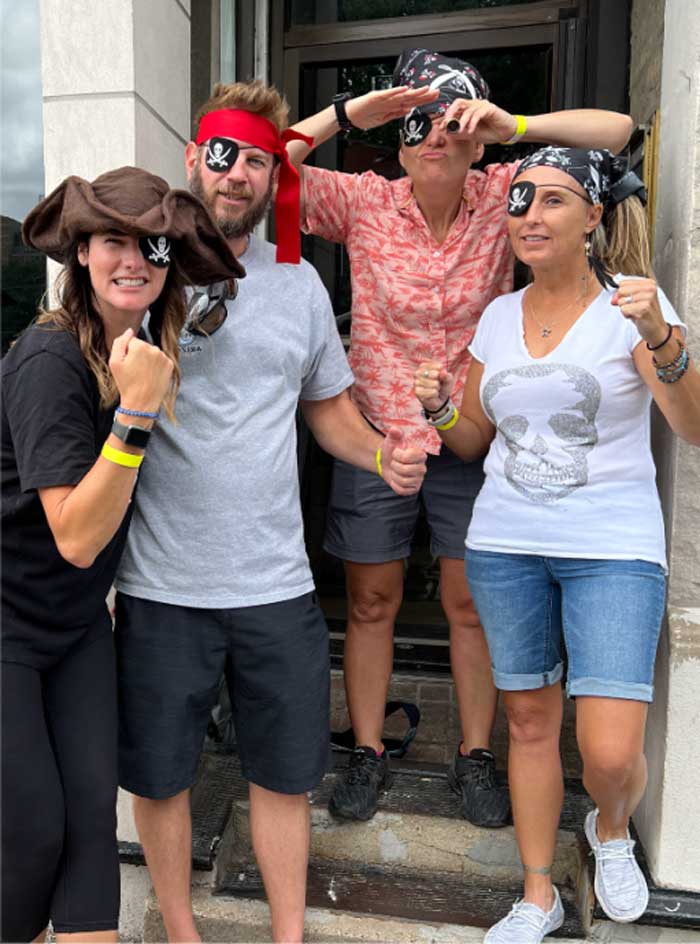 GET YOUR SCAVENGER HUNT
Race team
together
You simply must get a team together and try this epic live scavenger hunt for yourself! We welcome teams of all ages and all experience levels. You just have to have one thing in common – you love to have fun!
We have solo players at all of our events, and the entire in-person scavenger hunt can be played with a single-player team. We also offer great group discounts and ticket packages if you prefer to bring a team. And hey, you never know who on your team might be the one to solve each puzzle! If you love adventure and you're looking for a fun and exciting outdoor activity with your family and friends, check out this once-in-a-lifetime event. See you there!
FAQ
Frequently Asked Questions
You will have up to three hours of play time! The exact playing time per team depends on how fast you solve the puzzles and how quickly you travel between them. Very fast teams tend to finish the scavenger hunt event in about two hours, and less experienced teams tend to take all three. If you want to be sure to maximize your time and you are a frequent escape room player, you might want to play with a smaller team. If you are trying to win, you might want to put together a team of six!
Yes! If you have played Escape the City, Scavenger Quest has all new content, different clues, and exciting new puzzles. Fans of our Escape the City adventure box will recognize the quality and style, but the clues, puzzles, and solves are all new! There are also some added surprises and interaction with actors and planted staff. Plus, unlike our anytime game, there is a winner and a leaderboard at the end!
Each ticket includes one ticket to play in your city's Scavenger Quest, one novelty t-shirt, one access code to our interactive web app (nothing to download!), and unlimited fun!
You will need a fully charged mobile device, a back-up charger if necessary (you will need up to 3 hours of power), and comfortable shoes. We recommend bringing some water and snacks, though there will be plenty of opportunities for purchase along the way.
This is designed to be more of a mental challenge than a physical one, so race courses are designed to be in a walkable area. The entire amazing race event takes place on foot - no other transportation allowed! Plan to walk no more than 1-3 miles over the course of the event, depending on which city you play, which path you take, and how quickly you find the clues.
Tickets are individual. You can choose after you purchase your ticket how you would like to organize your teams. For example, if you purchase a pack of six tickets, you can either play together as a group of six, divide into two groups of three, or team up with other people who purchase tickets later. Each ticket gives you an access code to join the event on the app. During the setup process you will create teams and decide who you want to play with.
Teams can have up to six players. You can even play this in-person scavenger hunt alone!
Absolutely! In fact, the creators of Scavenger Quest have done so many escape rooms alone that it was one of the considerations when we designed the event. We wanted to make sure solo players can have the same experience as everyone else! There might be a few situations in which solo players have to get a bit more creative, but there is always a way. At every Scavenger Quest we have players who sign up and play alone. They always have a blast!
Teams of up to six players can work together to complete the scavenger hunt event as a group. You will sync with your team on the app so that if one person enters the correct solution to a puzzle, the whole team is able to advance. Hints are also taken together as a team so that if one person takes a hint, everyone else on the team is able to view it without an additional penalty.
If your team wants to be eligible to win the scavenger hunt race, we do not allow dividing and conquering. This is to keep everyone on a fair playing field. If we notice on the app that team members are solving and completing different puzzles in different parts of the race at the same time, you will not be eligible to win but will still be able to complete the race. If you are not trying to win and prefer to divide and conquer for another reason, you are more than welcome to.
This event is fun for all ages! It is perfect for couples, friend groups, families, and people of all ages. Each team is required to have at least one player over the age of 18.
The difficulty level is adjustable so that experienced players can challenge themselves while beginners can finish the race without problems. The progressive hint system on the app allows players to take as many hints as they need. Each one comes with a penalty, so beginners cannot win the race by taking every hint. However, everyone will be able to finish the race no matter what!
Each puzzle has hints on the app that you can access at any time. To keep the leaderboard fair, the hints each cost a penalty that will be added to your time at the end, and you can clearly see each hint's penalty before you choose to view it. Hints are organized in terms of how much help you need and where you are stuck. For example, you might choose to take a hint that helps you get started, or you might choose to view an example of how to solve the puzzle. For the highest penalty, you can even choose to view the answer!
Nope! Throughout the event you will scan QR codes to access our web app, which simply opens in a browser on your mobile device. No download required! To sync with your team and track progress throughout the event, you will need to create a login, which only takes a minute.
Scavenger Quest is an amazing race type event designed with physical clues and in-person interactions. Along the way, you will use our easy web app to get hints, immerse yourself in the storyline, and view additional clues and puzzles! It is also where you will input solutions to find out where to go to search for your next clue.
Registration begins one hour before the race starts. This is when you will check in, pick up your t-shirt, and receive the materials you will need to play the scavenger hunt race. If you have not activated your account on the web app prior to event day, you will need to allow a little extra time to get set up before you can play. We do close registration 15 minutes prior to the start of the race to go over the rules, make announcements, and start the countdown! Anyone not checked in by this time will need to wait until after the event kicks off, so we do recommend arriving early.
You will receive your event activation code via email prior to your race date. It is recommended that you create and activate your account on the app in advance to save time the morning of the event. However, if for some reason you are unable to, you will be able to complete activation at registration. Just note that there is chance you will start later than the other teams!
This event will be hosted rain or shine, so please dress accordingly! For severe weather emergencies, you will be notified of the backup plan via the email you used to purchase your ticket.
Each Scavenger Quest has a theme, and it is not recommended to play the same theme more than once because you will recognize most of the puzzles! In the 2023 season, there is only one theme taking place in each city. While there will be slight variations in some of the puzzles because of the real-world clues incorporated, the storyline is consistent and most of the puzzles will be the same or familiar. In the 2024 season we will be releasing additional themes and running them in a variety of cities so avid fans will be able to play more than once!