Virtual Holiday Party Ideas for Work
Is your team looking for a way to gather and celebrate the end of the year together? This list of fun virtual holiday party ideas for work will help you choose the right activity to celebrate together as an office, whether you are in person or remote. The list is stuffed full of fun virtual holiday party ideas perfect for teams of all different shapes and sizes, including holiday themes from funny to quizzical to creative so that there is something for everyone. Check out our list of ideas to find the perfect activity for your team and see how you can end up with all of your co-workers on Santa's "nice" list this year!
1. Secret Santa
This is one of the most classic holiday party games! To do it, all coworkers will get to take part in a surprise gift exchange. Each person participating is secretly assigned another colleague to get gifts and special treats for and at the end, you can hold a Zoom meeting to open gifts and reveal who each person's gift-giver was. To make it even more fun, have each recipient try to guess their Secret Santa before it is revealed. Secret Santa is great because you don't need to worry about the pressure of buying gifts for every single co-worker – just the one you are assigned. Instead of selecting the perfect gift for everyone on your team, you can focus on one person.
We recommend setting a budget for the group so everyone has a range to stay within. Otherwise, gift givers won't know how big or small to go! To draw names, check out Elfster's Secret Santa generator. Everyone can opt-in, and then Elfster randomly assigns Secret Santas. We recommend setting a deadline for the gifts to arrive a few days in advance of your meeting date. At the meeting, you will meet on Zoom to open presents together, show off your gifts, and enjoy the holiday cheer with your team! Pro-Tip: Have everyone submit their addresses in Elfster or on a Google sheet so that nobody has to ask where to ship. The goal is to keep it anonymous until the reveal!
 2. White Elephant
Are you looking to gamify your gift exchange? A white elephant gift exchange is fun for those who want to spice things up by swapping (or stealing!) gifts! It combines the holiday spirit of gift-giving with an activity allowing coworkers to pick and choose their gifts – sometimes by stealing them from another colleague. Be warned that this game can get intense (in a fun-spirited way), and many co-workers will go after the same gifts. But it's a great way to turn an ordinary gift exchange into a game.
You can choose to follow the standard white elephant rules or put your own fun twist on it. This game is typically played at the office or in person together, but with a few modifications, there is a convenient virtual version that makes a great virtual holiday office party! To start, everyone will need a number so that you know the order in which coworkers will open and choose their gifts. It's easiest to have everyone draw their order ahead of time using a number generator. At the virtual white elephant, everyone will show their wrapped gift on camera. Instead of choosing someone else's gift to open, players will choose their gift and the gift-giver will open it on camera. The chooser can either stick with that gift or "steal" from someone else. Use the renaming feature on Zoom to track who has which gift. For example, if I choose to have my coworker Nikhil open his gift, I would rename his Zoom screen to my name. Then, if Maggie steals that gift from me later on, Nikhil would rename his Zoom screen to Maggie. At the end of the game, everyone can send their gift to the appropriate person. It's a classic game that can easily be modified to fit into the virtual world!
3. Holiday Themed Virtual Trivia
Do you think that you know more facts about eggnog or Santa's reindeer than everyone else on your team? What better way to put it to the test than with holiday-themed virtual trivia? Coworkers are probably used to some friendly competition with their relatives over the holiday season, so it will definitely get them into the spirit to engage in some friendly competition with each other. You can find a lot of different trivia options available, from answering a set number of questions at your own pace to answering as many questions as you can in an allotted time. At Escapely, we tested a variety of methods and consistently got the best feedback on our rapid-fire rounds. So much so that now it is the only virtual trivia we offer! We recommend a wide range of questions so that everyone can participate. For example, you can include categories like holiday food, Hanukkah traditions,  Christmas songs, worldwide celebrations, or really anything else (most trivia companies can make custom categories – we do it all the time). Virtual holiday trivia is a perfect way to incorporate a fun activity into your virtual work holiday party.
 4. Virtual Cookie Exchange
The holiday season is wonderful, and holiday food and treats are some of the best (and yummiest) parts! Of course, some of the most delicious treats circulating around December are the various cookies people make. Before 2020, many companies held cookie exchanges to share holiday goodies with their coworkers – but these days many coworkers never go into the office! With many companies transitioning to fully remote, a virtual cookie exchange is an easy way to continue to enjoy cookies with your colleagues from the comfort of your home. To pull this off virtually, coworkers will need to send the cookies in advance. Each colleague should bake a batch of their favorite holiday cookie and send a few to each coworker. Then, all you have to do is set up a date and send out a Zoom link for everyone to hop on and enjoy delicious cookies together! Just make sure you leave some cookies out for Santa as well!
5. Gingerbread House Decorating Kit
If you want something more elaborate than a virtual cookie exchange, a gingerbread house decorating party is another yummy virtual Christmas party idea. It allows coworkers to get creative while building something delicious and bonding with their work friends. You can even have everything shipped directly to all attendees' front doors, so you don't have to worry about gathering the supplies yourself and shipping them or sending attendees out to shop. If that sounds appealing, check out this gingerbread house decorating event, which allows you to build a gingerbread house while listening to festive tunes. You will even get to make a warm apple cider drink to accompany your decorations! If a DIY event is more your speed, you can easily just send attendees a shopping list and ask everyone to bring their own supplies. With this approach, it is fun to let attendees choose the icings and candies they would like to use to decorate. In the end, everyone can show off their new candy creations! And of course, we at Escapely believe a little friendly competition makes all team building events more fun, so if you want to add a little competition, you can always have a contest for the best-decorated house! A gingerbread house decorating event is a sweet way to plan a yummy activity for your team and should definitely be on your list of virtual company holiday party ideas!
6. Virtual Murder Mystery
A virtual murder mystery as a virtual office Christmas party idea, you ask?! Absolutely yes, we answer. While a virtual murder mystery might be more commonly associated with a Halloween party, you would be surprised how popular these are as holiday parties. At Escapely, we see a surge of bookings for our virtual murder mystery around the holiday season. Part of it is no doubt because we offer a holiday-themed version, which gives participants a holiday tie-in with all of the fun of cracking a crime. But there are even plenty of groups who want to host a holiday party but steer clear of any holiday themes. For groups like this, a virtual murder mystery is the perfect answer!
Most teams are full of people who embrace the true crime genre and are ready to jump at a chance to play detective. There are a variety of styles of virtual murder mystery on the market, from "dinner theater" experiences to escape room-style murder mysteries that are heavy on evidence and puzzle-solving. At Escapely, we believe our customers should not have to do any prep work, so we don't have them play characters. Instead, the suspects are all played by live actors that participants get to interrogate! It's a great way for people to throw on their detective thinking caps and solve a "whodunnit" type of case. Whether you choose a traditional murder mystery or one with a holiday twist, this virtual holiday party idea will not disappoint. You might be surprised how seriously your team takes it!
7. End of the Year Virtual Bingo
Holiday bingo is perfect for groups because it has the flexibility to scale to any size! While virtual bingo does utilize behind-the-scenes staff, only one caller is needed whether you have a group of a few people or a few hundred. Additionally, this is an easy event to execute internally if you do not want to hire a company to run it. To play, everyone can gather on Zoom or their virtual platform of choice. Everyone gets their own bingo card (at Escapely we use Bingo Baker, but there are many options) and then an emcee calls out the numbers. To make it more fun during the holidays, we use holiday-themed words on our bingo cards, but even if you don't have the bandwidth to create special bingo cards, you can play holiday music throughout the event. The icing on the cake is that pretty much everyone already knows how bingo works, so you will not need to waste much time explaining the rules and can get right into the fun!
 8. Virtual Decorating
If you have a creative team, consider bringing everyone together for a virtual decorating party! It is high up there on the list of great virtual work Christmas party ideas and there are a number of different ways to decorate virtually with your team. One option is to send your coworkers kits so that they can make their own seasonal holiday decor, such as a wreath or a mug. All materials they need will be included in their kit, so no one will need to go out and purchase anything, which will be much appreciated during the busy holiday season. The first part of the meeting will be dedicated to crafting and bonding with your team. At the end, you can showcase your final designs to each other. To really immerse the group in the holiday spirit, you can encourage participants to attend with fun Zoom backgrounds that go with the decorating theme. If your team loves competition, you can combine this with a virtual cookie or gingerbread house decorating contest (see the prior suggestion). You can even offer a prize! The holidays are the perfect time of year to bring your team together, and what better way than by decorating for the season?
9. Virtual Hot Chocolate Tastings
There is nothing quite as nostalgic as sipping hot chocolate while waiting for the snow to fall during the holidays. A great way to bring those fond memories back (and create new ones!) is to host a hot chocolate tasting with your coworkers. There are companies ready to host these events for you, such as this virtual chocolate tasting with an expert chocolate sommelier. There is even this hot chocolate bomb making class to mold your own chocolate bombs – all you need to do is drop them into hot milk! If you prefer to self-host this event, you can also just find time over Zoom and send everyone a hot chocolate gift set to celebrate the holiday season. After all, you likely spend more time with your coworkers than with anyone else. If you are with those over the age of 21, then you can always send your team a little cordial to add to the hot chocolate, and if budget allows, we suggest pairing this virtual hot chocolate tasting with trivia or an escape game to liven up the party. This sweet delight will always be the perfect way to end the year together!
10. Virtual Escape Game
A virtual escape game is one of the most popular team building events because it combines fun, competition, and teamwork. On top of that, it's a challenge, so it makes everyone feel like they really accomplished something together. We have found that the holiday parties with the highest attendance rates always involve competition. People apparently jump at the chance to beat their coworkers and see how they stack up! And while any virtual escape game will be fun for a holiday party, there are some virtual escape rooms with holiday-themed games. At Escapely, we wanted to be sure that our holiday-themed game would be appropriate for everyone, so we developed Escape the Ice Palace, themed for the holidays in general rather than any particular holiday. However, if you are looking for a game to celebrate a specific winter holiday, those exist as well. No matter what you choose, your coworkers will thank you.
11. Naughty List – Never Have I Ever
Icebreakers are a great way to bond and nothing bonds people together quite like shared experiences…or in this case, shared non-experiences. To play the game of Never Have I Ever, each player takes a turn revealing something they have never done before. Maybe you've never traveled to a different country, or you've never sang karaoke, or maybe you've never eaten a whole gallon of ice cream (who are we kidding – we've all done that one!). But regardless, the way to play is that after each person states their "never," If anyone else in the game has done it, they must join the naughty list and take a sip of hot chocolate…or, If your group is so inclined, you can also replace the hot chocolate with a Hot Toddy or Baileys and coffee! Most people on your team should have no problem coming up with things they have never done – after all, the possibilities are endless – but we suggest sending out a list like this of Never Have I Ever questions for coworkers who don't know where to start. You will be certain to learn a lot about your team and are certain to get some laughs along the way. You might even learn more than you wanted to about your coworkers, like who cuts their own hair!
12. Holiday Family Traditions
The holidays are known as a time when family and friends come together. For a lot of families, the holidays are deeply rooted in traditions that differ from family to family. For your virtual holiday party this year, consider bringing everyone together to share their favorite holiday traditions and memories! It is always fun learning about your coworkers outside of the workplace and getting an insight into how they celebrate the holidays. Some of your coworkers may celebrate in similar ways – which is a great opportunity to bond! Some may give back to their community or have a family gift exchange or a holiday bake-off. Depending on the diversity of the group, you might even get to learn about cultural traditions you never knew about before. If you want to add another element to this party, you can ask everyone on the team to send a little bit of their family tradition (recipe, craft, or ornament) to everyone else on the team. Bringing everyone together to share their experiences in this way will certainly allow you and your colleagues to connect more personally.
13. Make Wreaths Together
Another fun and festive activity for your virtual work Christmas party is to have everyone make wreaths together. For groups who want to avoid having any food/beverage as part of their work holiday party, this is a great way to do something creative and holiday-themed without adding to the excessive eating that tends to go along with the season. Get together with your team to make a festive item that can be used time and time again throughout the holiday season. It's easy to do yourself if you just have everyone can bring their own supplies and trade tips and tricks over Zoom. Or, if you prefer a host, there are many companies that help you build wreaths together in a class! In this guided wreath-building session, an instructor will ship everything you need right to your front door and then guide you through the activity. All your team has to do is warm up their apple cider and enjoy creating a wreath together, led by a professional. The best part is that coworkers will have a reminder of their fun work holiday activity hanging on their doors all throughout the holiday season. And for those who prefer not to hang a wreath at home, it makes a great gift!
14. Holiday Costumes and Dressing Up
One way to add an extra fun layer to any virtual work holiday party idea is dressing up! The most popular of all is of course the ugly sweater contest, in which everyone wears the most ugly and tacky holiday sweater they can find (see the dedicated item below).  But there is a lot more your group can do to add a costume element to your virtual holiday party. One suggestion is to have a costume contest in which everyone comes as their favorite holiday movie or character. One by one, you can take turns guessing which movie or character everyone chose. Your friend from accounting may dress up as Frosty the Snowman, while the HR director may come as Buddy the Elf. Another suggestion is to pick a holiday movie and have everyone dress as a character from it. Then, you can watch the movie together at the end of the party. If you have a particular "game for anything" team, everyone can put their costume suggestions into a random online generator. People will each get assigned a costume and will need to wear whatever they get!
 15. Ugly Sweater Party
If you are looking to go a more traditional route with your holiday party this year, is there anything better than a good old-fashioned ugly sweater party? The answer is no – they are timeless, hilarious, and your employees will love it!  Invite everyone to come together on Zoom or in the office and tell them to wear their best ugly sweater!  It's fun to put some prizes on the line, too. Consider awards for things like:
Ugliest Sweater

Funniest Sweater

Most Festive
On Zoom, you can place people in small groups to mingle and do some fun icebreaker activities so that everyone can interact and see the sweaters! We recommend switching up the groups every few minutes so that everyone can meet different coworkers, and of course, get a good look at the competition. In the end, ask each attendee to send in their votes and then bring everyone back together to showcase the winners! And don't forget to play some music at the closing ceremonies.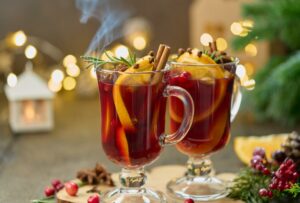 16. Holiday Cocktail Parties
Most coworkers will all agree that the best element at work holiday parties are the cocktails. Virtual holiday cocktail parties make great events in and of themselves. There are many hosted classes in which a virtual instructor or mixologist can teach everyone how to make their virtual holiday party drink. Of course, almost all of these will send attendees everything they will need in advance. Some instructors even play holiday music or ask virtual holiday trivia questions while you are getting ready. If you have the budget for it but are low on time, these events require very little on behalf of the organizer as the company will handle shipping the kits for you. For the 21+ crowd that isn't looking to make cocktails the focus of their event but just wants to add a fun beverage to their holiday party, you can make cocktails an addition to any virtual event. Just have everyone pour a cup of eggnog, cider, or any other beverage of their choice, get on Zoom, and enjoy some time together. If anyone has a special cocktail recipe they would like to share, it would certainly be appreciated as well. A virtual cocktail party is certain to make your virtual company holiday party memorable and fun.
17. Virtual Card Exchange
Have you ever sent a loved one gifts or cards through the mail that tragically got lost? Well, now, through virtual card exchanges, you can rest assured that your card will be delivered directly to the recipient electronically with no chance of getting lost in the mail. Get your coworkers together to send virtual cards to everyone on their list. The great thing about this virtual holiday party idea for coworkers is that it helps knock an item off of their to-do list. We recommend getting everyone on a site similar to Canva to create messages and design cards, and then you can show each other your creations. A fun twist on this activity is to add an office card exchange so that each employee must send one virtual card to someone else at the office during the event.
 18. Virtual Holiday Scavenger Hunt
There are so many exciting ways for friends, family, and even coworkers to connect this holiday season. Playing fun games together, like a virtual scavenger hunt, spreads the holiday cheer whether you're 10 or 1,000 miles away from each other! At a time when most coworkers will be getting inundated with treats and sweets to eat, this activity gets the crowd out of their seats and moving around. Everyone will start on Zoom while one person (the host) reads off a previously compiled list of holiday items for all to collect. The list can include anything from something red and green to a menorah – and everything in between! You can execute this event one of two ways: Either give everyone the list at the beginning and a set amount of time to collect the items, or you can read them one by one and let people dash around the house as quickly as they can and return to their desk to hear the next item. You would be surprised how competitive this event gets! If your team chooses to include a prize for the most items found, this will certainly drive up the competition. There's no better way to get those sleigh bells jingling than jumping in on all this holiday fun!
19. Virtual Cooking Classes
Want to cook up some fun, delicious recipes this winter season? Whether it's for friends, family, or coworkers, food is always a hit at any holiday party. And if you and your coworkers learn how to make it yourselves, you can impress everyone at the other holiday parties you are invited to! This virtual holiday party idea is tasty and useful. You can select a holiday dish and learn how to cook it together, all individually from the comfort of your own kitchen. A simple Google search will reveal a wealth of options, both holiday-themed and not, and almost all companies will send you the ingredients so all you have to do is cook. Some will even send them chopped, peeled, and prepped! Some of the options you will find are chocolate candies, a cinnamon roll workshop, homemade pasta and pizza class, a chocolate bark making class, a truffle making party, donut baking class, mochi pancakes, holiday tiramisu, and so much more! Food is the key to the heart, so what are you waiting for?
 20. Virtual Painting Party
For those groups that like to have something that they leave with at the end of their virtual Christmas party, then a virtual painting party may be the thing! These activities have become increasingly popular, so chances are you and some others on your team have even done one before – but perhaps not with a holiday theme! Everyone has a chance to gather over Zoom, where you will be guided by an artist throughout the entire session. Since this is a private party, your team can feel free to add wine, snacks, or dinner to the celebration and your team can choose to have a festive painting or one unrelated to the holidays. You can check out Paint The Town's website to get an idea of what to expect. To get into the holiday spirit, you can even have music playing in the background, and they can ship out fun holiday accessories to your entire team! Even better, all materials will arrive straight to everyone's door, so no prep work is required from anyone. A virtual painting party is a relaxing and fun way for your colleagues to have a virtual company holiday party for your entire team. All you have to do is sit back and enjoy the painting session, Picasso!
21. Holiday Show And Tell
Do you remember how fun it was in Kindergarten to bring an item to show your class for show and tell? Now you can do the same thing at a virtual work holiday party. Have everyone on your team choose an item meaningful to them and bring it to the Zoom meeting. One by one, give everyone a chance to show the item they chose, explain a little bit about it, and tell everyone why it is valuable to them. It's a fun, low-pressure environment in which everyone gets a chance to show off what is important to them and learn more about their coworkers. We recommend telling attendees the items they choose can be holiday-related or simply anything meaningful that they would like to share – you certainly wouldn't want anyone to feel left out if they do not celebrate winter holidays. However, if you want to add a holiday twist, check out this free printable card on Pinterest. This fun card has some prompts to share holiday information with your team which you can do after some of the sharing.
22. Tiny Tree Decorating
A really cute (and fun) virtual Christmas party idea is to decorate a tiny tree, and it works perfectly over video conference! (Of course, you do this in the office together too.) You can conveniently order a bundle of tiny trees and ship them out to everyone in advance. It's up to you whether you would like to include ornaments and tinsel or let everyone choose and bring their own supplies. The former is less work for attendees (though more work for the organizer), but the latter will result in a wider variety of creative trees. At the virtual work Christmas party, spend some time chatting and decorating before showcasing your creations. If you want to get really festive, you can play holiday music or even pair it with some holiday cocktails (see above)!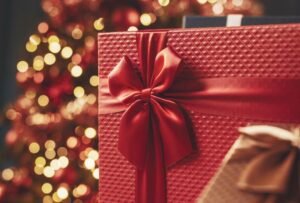 23. Holiday Gift Wrapping Contest
If you have never heard of a holiday gift-wrapping contest, this virtual holiday party idea is sure to stir up some competition! You may not think of gift wrapping as a standard idea for virtual holiday parties, but just hear me out – it is incredibly fun! While there are a few different variations you can take on this competition, the most popular way to organize this is by shipping everyone the same shaped items that they have to wrap in an allotted amount of time. We recommend oddly shaped items and a time of only a few minutes. To determine a winner, everyone can either vote on the best wrapped gift, or you can have designated judges from your team that act as officials and rate the best-wrapped present.
24. Make Origami Ornaments
For crafty people in your group who would like to add a little creativity to your party, try making origami ornaments! There are a couple of ways to do this. One is to make this a competition: Send the folding instructions for several items to everyone without the accompanying photos so that no one knows what it is supposed to look like. Then, gather over Zoom to compare the creations and see who nailed it…and who did not! This variation is a virtual work Christmas party idea that is easy to prepare. For something a little bit more guided, you can check out instructional videos such as this instructional Youtube video. It takes your group step-by-step through all of the folds needed to make their ornament. Depending on the tone of your group, they may find the guided version to be a more fun virtual holiday party. But the best thing is that both of these options are free, so it's a perfect way for groups on a budget to also engage in a fun craft, of course, while chatting with each other and reflecting over the past year. Even better, at the end of the session, everyone has an ornament that they can hang on their tree, not to mention the lasting memories of a fun time.
25. Gratitude Event
The holidays are a time to be thankful for a lot in life, and if you have coworkers like ours at Escapely, you will probably feel especially thankful for your work team! As the end of the year closes, it can be a stressful time for companies, and having a virtual holiday party may not be at the top of your priority list. However, it's still always nice to let your employees know that you are grateful for them and their work. One popular gratitude event is buying everyone on your team lunch or dinner and gathering over Zoom to enjoy it together. This idea for virtual holiday parties is a yummy way to connect with everyone while showing your appreciation for the team. An alternative gratitude event is to have your team share what and/or who they are thankful for. Encourage employees to go a little deeper and explain why or tell a short story that illustrates why they feel so lucky. This exercise helps the whole team show their gratitude for one another, rather than having one person just thank everyone as a group. If your team is small or extra close, you can get a bit more personal and really dig into what the team has helped each other through in the last year. If you also want to include this in an end-of-year reflection, you can check out these questions to help guide your conversation. A gratitude event is a fantastic way to boost team morale and finish the year off strong!
BONUS: Recipe Exchange
Food is a huge part of the holiday season and really brings people together! If you are still tossing around fun ideas for a virtual holiday party this year, consider doing a recipe exchange. Rather than just submitting recipes, have all of your employees submit their favorite holiday recipe along with who they are and why they chose it. The added "flavor" will not only help them learn more about their coworkers, their family traditions, and which holiday(s) they celebrate, but they will remember a vignette about their coworker each time they make the recipe. This virtual holiday party idea can be done virtually or in person. If you meet virtually, consider combining all the recipes into a document and sharing it with your company! If you are meeting in person, you can even make it a potluck! Have everyone make and bring their favorite dish so that attendees can sample the recipes. You can even make this a bonding activity throughout the year by encouraging all employees to share pictures and stories each time they make the recipe.
Need Help Planning a Virtual Holiday Party?
It's a lot of work to plan a virtual holiday party, especially at a time of year when most people are already stretched thin – both with year-end work and family commitments! We highly recommend hiring a company that will take all of the planning and event execution off of your plate. This is especially nice because it allows the event organizer to attend and enjoy alongside everyone else. At Escapely, for example, we have virtual holiday parties for all budgets and group sizes and our event planners will take all of the heavy lifting off of your plate. Whichever company you choose, just be sure to check the number of events they have hosted and briefly review their past clients – it will give you a great indicator of the quality to expect so that you know you are in good hands!