We saved you the hard work and rounded up a list of the top team building activities in Houston, Texas. If you're looking to engage your team in exciting and interactive experiences in Houston, you have to check out this list! All of our ideas foster collaboration, communication, and a sense of camaraderie. From thrilling outdoor adventures to creative challenges, Houston offers many options to strengthen your team's bond and unleash their potential. We have included something for every team no matter how adventurous – adrenaline-pumping escape rooms, thrilling scavenger hunts, and unique culinary experiences. Now that we have curated a list of the best team building activities in Houston, all you have to do is choose the right one for your group!
Are you looking for exciting and fun team building activities to engage your team in Houston? Fortunately, Houston offers a wide range of options that combine fun, collaboration, and bonding. From unique indoor experiences to outdoor adventures, there are plenty of fun activities in Houston to choose from that will strengthen relationships, promote communication, and boost team morale.
So get ready to ignite team spirit, boost morale, and create lasting memories with these awesome activities to do in Houston!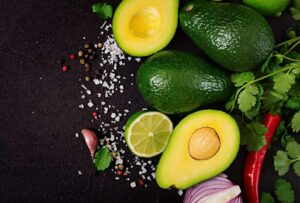 11 Fun Activities in Houston For Your Group
1. The Great Guac Off
The Great Guac Off Houston is an exciting event celebrating the beloved Mexican dish, guacamole. It brings everyone together to showcase their guacamole-making skills and compete for the title of the best guacamole in Houston. And let's be honest, what company wouldn't want to participate in a guacamole-making challenge?! Each team gets to create their own unique guacamole recipe, incorporating whatever ingredients and flavors they would like. To develop a winning guacamole recipe, teammates will need to collaborate and use creative thinking.
To make it a little more difficult, your guacamole-making challenge can include specific guidelines, time constraints, or surprise ingredients that teams need to work with. Doing it this way encourages problem-solving skills and adaptability because teams will have to think on their feet, make quick decisions, and adjust their recipes if necessary. If you go with a time constraint, they will also have to learn to work well under pressure. At the end of the Great Guac Off, teams can come together to celebrate their achievements and enjoy the delicious guacamole creations. You can choose whether to make it a tasting experience or a competition in which everyone can try the guacs and vote! The celebration allows teams to relax, have fun, and appreciate the teamwork and creativity demonstrated during the activity. The Great Guac Off is a corporate team building activity in Houston that combines culinary creativity, teamwork, and best of all, taste!
 2. Urban Adventure Quest
Escapely's Urban Adventure Quest is a combination of an escape room and a scavenger hunt to create an exciting team adventure around downtown Houston! Your group will divide into teams that race against each other to crack codes and solve puzzles and reach the finish line first. Each team gets a game box with clues, a locked box, and some other secret items. They search downtown Houston for real-world clues like sculptures, artwork, parks, and more. Unlike ordinary scavenger hunts, which just require participants to find items and check them off of a list, Urban Adventure Quest takes it one step further. After players find a real-world clue, they use it to solve puzzles and crack codes in their box. Then, they enter solutions on the app to find out where to go!
Teams will have access to a web app throughout the game that doesn't require a download to access. They can get hints throughout the game anytime they want, but since it's a race amongst teams, each hint comes with a penalty. At the end, there's a leaderboard so that teams can see how they stacked up! Of all of the team building activities in Houston, this is probably the most immersive adventure you can play with your group.
3. Segway Tours of Houston
Segway tours of Houston are guided tours that allow participants to explore the city's landmarks and attractions while riding on a Segway (which, if you don't know, is a self-balancing personal transportation device). These tours provide a unique and fun way to see the sights and learn about the history and culture of Houston. Before the tour begins, participants receive a comprehensive orientation and training session on operating the Segway. Experienced tour guides provide instructions on safely maneuvering, stopping, and turning the Segway so even if you have never been on a Segway before, you will feel comfortable and confident before embarking on the tour. Throughout the tour, guides provide interesting and informative commentary about the history, architecture, culture, and notable landmarks of Houston.
Segway tours can be enjoyed as part of a group or booked as private tours for a more personalized experience – for corporate team building events, we always suggest a private group tour. Segway tours of Houston offer an exciting and efficient way to explore the city's attractions while enjoying the thrill of riding a Segway. And for those who find walking or moving around difficult, it's a fun and engaging team building activity in Houston.
4. Pedal Party Pub Crawl
A Pedal Party pub crawl is one of the team building activities in Houston for a group that likes to have a few drinks together. It's an interactive group activity that combines cycling, socializing, and visiting various pubs or bars. What more could you ask for? Your whole group will pedal a large, multi-person bicycle, often called a "party bike" or "pedal pub," while stopping at different establishments along the route. It features multiple seats arranged around a central bar area, where participants sit and pedal together. The bike is usually equipped with pedals, gears, a canopy or roof, and sometimes music speakers to enhance the experience. Some bikes are pedaled by the participants, but most offer a boost – the pedals move, but the riders don't actually have to propel the vehicle themselves.
Pedal Party pub crawls offer a unique and entertaining way for participants to bond and have fun. Pedaling together requires teamwork and coordination and the lively atmosphere, music, and laughter make it a blast! There's a good chance the activity will foster some new friendships and definitely strengthen existing ones within the group. Pedal Party pub crawls offer a distinctive and social way to explore a city's nightlife, visit popular establishments, and enjoy the company of friends or fellow participants.
5. Amazing Escape Race
Escapely's Amazing Escape Race is a one-of-a-kind team building activity in Houston that combines the elements of an escape game with the excitement and adventure of the popular television show, "The Amazing Race." The Escape Race brings teams together in a competitive yet collaborative adventure. Teams must work together, utilizing their collective skills and knowledge to solve puzzles, decipher clues, and complete challenges. Collaboration is essential to progress through the race and reach the finish line. Teams must think creatively, analyze clues, and connect pieces of information to progress through the race. As they go, they also encounter challenge stations that they must complete before they move on.
This in-person team building experience promotes teamwork in finding innovative solutions. The Escape Race also introduces an element of friendly competition among teams, adding an exciting and motivating factor to the activity. And which company doesn't have some competitive coworkers? It is sure to inspire healthy rivalry and motivate participants to perform their best. Plus, as teams progress through the Escape Race, each completed challenge and puzzle brings a sense of accomplishment. Celebrating small victories like this boosts team morale and fosters a positive team spirit.
The Escapely Amazing Escape Race combines the excitement of an escape room with the thrill of amazing race games, creating a unique and fun team building experience. Engaging in this team building activity in Houston will undoubtedly leave your team energized, motivated, and with a strengthened sense of unity.
6. Best Bites Houston Food Tour
The Best Bites Houston food tour is a culinary experience that guides participants in exploring Houston's vibrant food scene. This fun team building activity offers an opportunity to discover local eateries, taste a variety of dishes, and learn about the city's culinary culture. Team members get to embark on a culinary adventure, try new foods, and explore different flavors as a group. It's a very inclusive activity because food tours often feature diverse cuisines and dishes that reflect the cultural fabric of a city. Exploring different foods and flavors is a great way for team members to learn about various cultures and traditions. It promotes cultural understanding and appreciation, opening up discussion opportunities about diversity and inclusion within the team.
If that isn't enough, food tours can be designed to also include team-building activities or games. These activities may involve challenges or tasks related to the food or the locations visited. Food tours can also be used as a way to celebrate team successes or milestones. Whether it's a project completion, reaching a sales target, or achieving a significant milestone, gathering for a food tour is a unique alternative to a team dinner or traditional celebration. Food always has a unique way of fostering connections and creating a positive and inclusive environment within the team.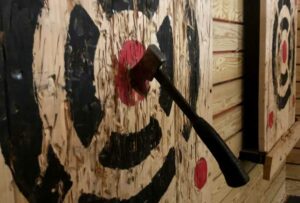 7. Houston Axe Throwing
Axe Throwing is a unique and exciting team building activity in Houston. Throwing an axe is something most people on your team have probably never done before, so it creates a shared experience that brings team members together!
Axe throwing requires effective communication and coordination within the team to make sure everyone is safe. The goal of an axe throwing event is to throw an axe while consistently hitting the target. This requires everyone to analyze their throws, adjust their technique, and troubleshoot any issues. Participating in a new and exciting activity like axe throwing breaks down barriers and encourages team members to interact in a non-work setting that takes them out of their comfort zone. This fun team building activity takes place in a relaxed environment so coworkers can get to know each other on a personal level, which in turn enhances the workplace culture.
8. Houston Rockets Game
Attending a Houston Rockets game is a great team building activity in Houston that entertains and encourages team building among coworkers. Watching a sporting event together allows everyone to get on the same team while cheering for someone else's success. A live NBA basketball game together generates a sense of shared excitement because they can cheer for their favorite team, celebrate great plays, and engage in friendly banter with opposing team fans. This shared experience creates a bond and a sense of unity within the team. 
For those who follow basketball, a Rockets game provides a common interest for team members to connect and have meaningful conversations. They can discuss the game, players, strategies, and past performances. The really zealous fans can even strategize and discuss game scenarios, analyze players' performances, and share opinions and insights. And for those who don't follow sports, it will ignite a sense of competition and friendly rivalry. And as we all know, a little friendly rivalry can create a fun and energizing atmosphere that strengthens relationships and motivates team members. Since this is a sought after event, attending a Rockets game can even serve as a reward or celebration for team successes or milestones!
9. Houston Zoo
Visiting the Houston Zoo offers not only an opportunity to explore and observe a wide variety of animal species but also the potential for close encounters and volunteer opportunities that can enhance the team-building experience. The Houston Zoo is home to over 6,000 animals worldwide, making it an exciting destination for locals and visitors. As team members navigate through the zoo's exhibits, they can observe and learn about various animals, their habitats, and conservation efforts. 
You may not know that this fun team building activity in Houston provides opportunities for close encounters with animals through interactive experiences and special programs. Depending on availability, teams may have the chance to participate in animal feedings, behind-the-scenes tours, or animal encounters where they can get up close and personal with certain species. The zoo can even work with you to facilitate team building activities in Houston tailored to meet the team's goals and objectives. Visiting the Houston Zoo is an exciting option because whether through close encounters, volunteer activities, team-building exercises, or educational programs, the zoo presents a unique setting where team members can connect with nature and each other.
10. Tantrums Rage Rooms
Tantrum Rage Rooms are a unique and unconventional team building activity in Houston that, believe it or not, can actually promote collaboration and team bonding. Tantrum Rage Rooms are a controlled environment where team members can release pent-up stress and frustration, without actually harming anyone or anything valuable! Breaking objects and venting emotions in a safe and controlled manner is a cathartic experience and a stress relieving activity that can help team members unwind, relax, and improve their overall well-being. Plus, team members will bond over the shared experience of doing something they are not normally allowed to do and have probably never done before! A shared experience like this creates lasting memories. 
Tantrum Rage Rooms provide a variety of objects to break and teammates together decide what they want to destroy. One thing is for sure: Tantrum Rage Rooms stimulate team members' energy and excitement. While Tantrum Rage Rooms may not directly align with traditional team building approaches, they offer a unique way for teammates to release stress together…and it's also a lot of fun.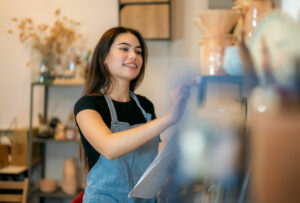 11. Pottery Painting Class at the Mad Potter
Attending a pottery class at The Mad Potter in Houston is a fantastic and fun team building activity. Changes are you have some people on your team who love art, or at least can appreciate it. Pottery painting classes offer a hands-on experience that allows team members to explore their creativity and express themselves artistically. It will be fun for coworkers to see what others have chosen to paint, and at the end, everyone can show off what they have done!
Participating in a pottery class at The Mad Potter creates a memorable experience that stands out from typical team-building activities. Coworkers get to create something tangible with their own hands and the best part is, they get to take home a lasting reminder of the team-building experience! For an extra touch, so that everyone does not have to remember to go back and pick up the completed piece at a later date, collect all of the finished art together, and distribute it at the office. It can even make for some fun, new office decor!
Why Team Building Activities Are Important
Team building activities play a crucial role in developing strong relationships among team members and cultivating a positive company culture. Fun team building activities provide opportunities for team members to interact, collaborate, and get to know each other outside of their usual work roles. Engaging in shared experiences like the ones on this list helps to establish personal connections, build trust, and enhance communication among team members. Strong relationships lead to better teamwork, cooperation, and a more cohesive work environment.
Team building activities also provide opportunities for individuals to showcase their strengths and contribute to the team's success. When a coworker sees a side of someone they did not know before, for example, that they are great at art, they start to appreciate others in new ways. Team building activities can also highlight areas where individuals may need support or improvement. By identifying strengths and weaknesses through fun team building activities, team members can better understand how to collaborate effectively and leverage their skills for the benefit of the team. 
Team building activities are essential for building strong relationships, and in turn, strong relationships are essential for reinforcing company culture. A cohesive team will thrive, collaborate effectively, and work towards shared goals, ultimately contributing to the organization's success.
 Improves Business Relationships
Team building activities play a crucial role in improving business relationships between coworkers. If coworkers only see each other as work colleagues, they may lack the trust and communication necessary to effectively work productively. But if you provide opportunities for coworkers to interact and communicate outside of their usual work tasks, such activities teach individuals to listen actively, express ideas, and share feedback. It also tends to minimize conflict and promote a more open and collaborative work environment because coworkers better understand where their counterparts are coming from.
Fun team building activities encourage coworkers to rely on and support one another, which helps them to develop trust in each other's skills. When this trust is built, they naturally work more synergistically together and time is saved for the company overall. Team building activities often require coworkers to work together towards a common goal, which is exactly what should happen in an efficient organization. By engaging in shared tasks, coworkers gain a deeper understanding of each other's capabilities and build a foundation for future collaboration.
Additionally, at work, employees may interact primarily within their own teams or departments, creating silos and limited cross-functional relationships. Team building activities break down these barriers by bringing individuals from different parts of the organization together! They will learn to appreciate their coworkers and what they bring to the table, even if they work on very different things. These activities create opportunities for individuals to connect, understand each other, and work together more effectively towards common goals.
Encouraging Creativity
Team building activities can be powerful catalysts for encouraging creativity and thinking outside the box, especially when participants are engaging in new or unfamiliar activities. New and unfamiliar activities disrupt established routines and thought patterns. This novelty stimulates the brain, triggering curiosity and a willingness to explore different approaches and perspectives.
Team building activities are also a safe and supportive environment where participants can take risks they would not normally take, make mistakes, and think creatively. By removing the fear of judgment or failure, individuals feel more comfortable expressing their ideas and exploring unconventional solutions. This psychological safety boosts confidence and allows for more innovative thinking in their day jobs. Also, many team building activities require participants to solve problems collectively, which brings together diverse perspectives and encourages individuals to contribute their unique ideas.
Finally, team building activities often involve an element of playfulness and fun, and play has been linked to increased creativity. It allows individuals to explore, experiment, and think in unconventional ways. By engaging in enjoyable and non-work-related activities, participants tap into their creative instincts and are more likely to think outside the box.
Enhancing Communication
Team building enhances communication and brings out leadership skills among coworkers. This is because fun team building activities often involve a common goal or objective and working towards a shared goal encourages participants to communicate effectively, share information, and align their efforts. Clear communication is essential for coordinating tasks, assigning roles, and ensuring everyone is working towards the same outcome. 
Effective communication involves speaking and listening attentively to others' ideas, perspectives, and concerns, and unfortunately, it is not a skill that comes naturally to everyone. Team building activities provide opportunities for coworkers to practice the skill of active listening and understanding. They allow coworkers to build trust by working together, relying on each other's contributions, and witnessing their abilities in action. As trust grows, individuals become more comfortable expressing their thoughts, which leads to improved communication and stronger working relationships.
Team building activities also provide a platform for individuals to step into leadership roles and demonstrate their leadership skills. Many of them require participants to take charge, make decisions, delegate tasks, or guide the team towards a common goal. By engaging in these leadership opportunities, coworkers can showcase their leadership abilities or even build confidence in capabilities they didn't know they had. Fun team building activities are sure to improve team dynamics, productivity, and stronger working relationships.
Building Trust
Team building activities are a great way to build trust between team members. Of course, the extent of trust-building depends on the nature of the activity. A team building activity centered around creating art is going to build trust less deeply than a high ropes course, for example. Activities that require team members to collaborate and work together towards a common goal build the most trust through shared experiences. These challenges may involve problem-solving tasks, physical obstacles, or strategic games. The point is that by facing challenges together, team members develop a sense of reliance on each other's abilities. This in turn builds trust in their teammates' competence and commitment. 
Another way that team building activities can build trust is through open and honest communication. Activities that encourage individuals to be vulnerable and then supportive of each other build trust that coworkers can count on one another. This may involve sharing personal experiences, expressing fears or challenges, or participating in trust-building exercises that require individuals to rely on each other. When team members feel comfortable being vulnerable and receive support from their colleagues, trust in the workplace is strengthened as they perceive their teammates as empathetic and caring.
Constructive feedback sessions are another way to create a culture of transparency and accountability, allowing team members to address challenges, learn from mistakes, and continuously improve. This also fosters trust as individuals feel comfortable giving and receiving feedback in a supportive, growth-oriented environment. It's important to note that the level of trust-building can vary depending on the participant's willingness to engage, the facilitation of the activity, and the overall organizational culture. By selecting appropriate and fun team building activities that align with the team's needs and objectives, trust can be fostered and strengthened, leading to improved collaboration, communication, and productivity.
Making a Positive Work Environment
Activities prioritizing employee well-being and engagement demonstrate that the organization cares about its employees' happiness and fulfillment. Whether it's wellness programs, team-building events, or recognition initiatives, these activities show that the company values its employees' holistic development and fosters a positive work-life balance. Engaging in fun team building activities that create a positive work environment and company culture is crucial for fostering employee satisfaction, loyalty, and productivity.
When colleagues have positive relationships, they are more likely to support and collaborate with one another on projects in the workplace, leading to increased productivity, improved problem-solving, and a stronger sense of camaraderie. Also, employees who feel valued and acknowledged are more likely to be engaged and loyal to the organization. A positive work environment leads to higher employee satisfaction, increased engagement, improved teamwork, and, ultimately, better business outcomes.
Another way that team building activities promote a positive work environment is by showing employees that the company is invested in their growth and advancement. Training, workshops, mentorship programs, or professional development initiatives enhance employees' skills and knowledge, showing that the organization invests in their long-term success and career progression. By occasionally choosing team building activities that train employees new skills and set them up for future leadership, you are telling your employees that you are invested in their future.
Pick your next Team Building Activity in Houston!
Houston provides a wealth of fun team building activities, but few can match the immersive and collaborative experiences offered by Escapely team building activities. As you navigate our intricately designed challenges, step into a world of mystery, teamwork, and excitement. Unlock your team's potential, enhance communication, and celebrate the power of collaboration in an unforgettable adventure. Take advantage of this opportunity to challenge your team and create lasting memories. Unleash your team's potential with Urban Adventure Quest, called one of the best team building activities in Houston!