Virtual happy hours have become a staple amongst remote teams. The highest-performing teams can transcend coworker relationships to forge close friendships, which is even more important in teams that don't work together in an office. Virtual happy hours are the perfect opportunity to bring your team together to socialize, connect, and break up the work day! In addition, you are likely to have high attendance because the virtual environment removes barriers to entry – there is no commute time, and it's easy to join from anywhere! With virtual happy hours, even teams spread out across states or the globe can check in with each other and deepen bonds. We recommend making it a regular occurrence that coworkers will learn to look forward to.
Check out our list of 24 virtual happy hour ideas to liven up your next meeting and re-energize your work team. You can choose to bring in the professionals, ship kits to your coworkers, or plan a quick and easy event on your own.
Food and Drink Virtual Happy Hour Ideas
1. Virtual Coffee Tasting
There are ways to involve non-drinkers in virtual happy hour ideas that involve alcohol. But this one bypasses that entirely! A virtual coffee tasting is great if you are getting your team together for an early or mid-morning virtual happy hour. Your team members who drink coffee daily will have a chance to learn about the roasting and brewing process, and those who do not will be exposed to new tastes and flavors.
The typical virtual coffee tasting will start with a brewer walking you and your coworkers through the history of coffee, its science, and many different techniques on how coffee is made. This is a perfect way to jump-start your team's day, teach them something new, and allow them a chance to connect with each other.
There are several different virtual coffee tastings available. Check out this one from Krafty Lab. You can choose the kit you want to use and select your ideal date and time. If sending out kits is outside the budget, a virtual coffee tasting can easily be set up internally. Just set a meeting time and tell everyone to log on with the coffee of their choice. Then, ask each team member to share their favorite brew. It's quick, easy, and cost-effective. Either direction you choose, most coworkers will agree that the best way to start the day is with caffeine!
2. Virtual Wine Tasting
When setting up virtual happy hour activities for your team, virtual wine-tasting team-building events almost always make the list. And this happy hour idea can be done with a range of production efforts. It can be hosted on a budget by someone on your team or upgraded to a premium experience with a sommelier and wine-tasting kits.
To host a virtual wine tasting yourself, you can order miniature bottles of wine and send them to your team. Try them together and discuss what everyone thinks! For a more upgraded experience, invite a winemaker or sommelier from the winery of your choice to walk the team through different varietals. Learn about how the winery grows and harvests grapes, how their wine is made, the winery's history, where the ingredients come from, and of course, the taste! The instructor will share tasting notes and pairings that participants can take home with them.
We do recommend keeping in mind any coworkers who want to avoid drinking alcohol. If you have any participants who prefer not to drink wine, most wineries offer a non-alcoholic option so that everyone can participate.
3. Virtual Cheese Tasting
Who doesn't love cheese? Virtual cheese tastings are crowd-pleasers that work great as stand-alone experiences or alongside virtual wine or beer tastings. In fact, some wineries and breweries offer both together!
Virtual cheese tastings can range from pairings to tastings to even crafting your cheese board. Have a talented cheese expert lead you through a cheese sampling to learn about the taste, smell, pairings, and more! Your team can ask questions and share feedback – it's a great way to keep everyone engaged. You can also provide an experience for each employee to create their own charcuterie board – a skill they can take away from the experience and utilize in the future. Participants can showcase the boards afterward and vote on a winner. Charcuterie boards can also be accommodated if you have any participants with dietary restrictions, as anyone can choose to leave out ingredients that they cannot have.
4. Virtual Cocktail-Making Class
A virtual cocktail-making class is a classic option for happy hour! In a virtual mixology class, you and your coworkers get to become bartenders. The most common way to execute this team building event is to hire a knowledgeable mixologist to walk your team through the construction of several festive cocktails. If you go this route, the company you choose will also coordinate sending each participant a cocktail kit with everything they will need. This makes it easy for your team and everyone will love receiving a customized kit prior to the event. It really gets everyone excited!
The other option is to see whether any team members have bartending experience and would be willing to take charge. You can provide a shopping list beforehand so that each employee can purchase the ingredients they need for the event. You can even throw in some happy hour games to play after the drinks are made! We also recommend theming your beverage choices to the time of year! For example, choose some refreshing options to bring your team together in the summer months.  It's the perfect ending to the work week and an opportunity for employees to relax and destress together!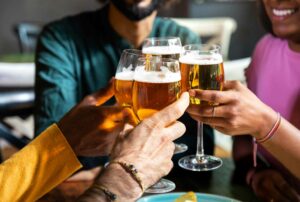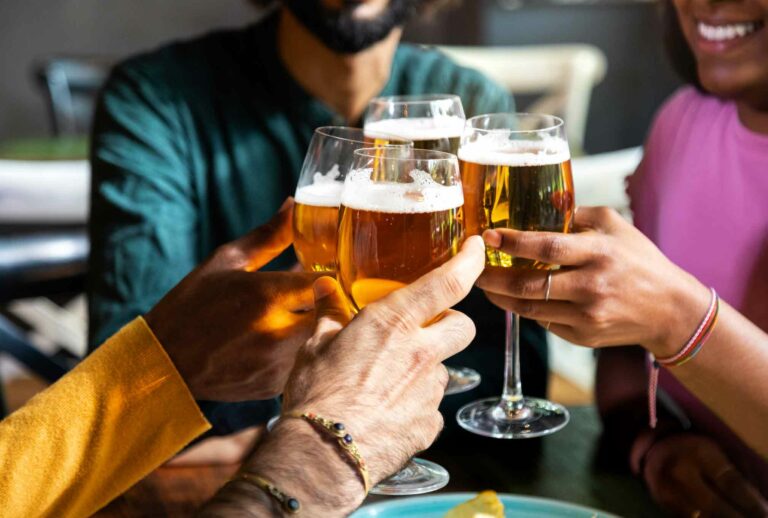 5. Virtual Beer Tasting
Beer is a classic beverage, but there are so many different kinds! Beer connoisseurs and novices alike will learn something at a virtual beer tasting. It is also something that you can easily organize yourself. Have each team member submit their favorite beer. Compile the selections into a list and ask each coworker to seek out a few they are not familiar with and bring them to the happy hour. At the event, let the new tasters share their thoughts with those who chose the beers.
Of course, one of our most well-liked virtual happy hour tips is to take the organization off your plate. If you want to outsource 
the execution, some companies can provide tasting kits and a beer expert or brewer to join 
and talk through the notes of each one! Either direction you choose, your employees will love this happy hour classic that allows participants to come together and bond over drinks!
6. Virtual Chocolate Tasting
Know anyone who likes chocolate? Thought so. Virtual chocolate tasting team building events are a tasty crowd-pleaser. They are a great addition to virtual happy hours year-round, especially around the holidays! Bring your team together to learn about the history of chocolate, how it is made, what it pairs well with, and, of course, taste it! A virtual chocolate tasting is the perfect way to sweeten your next gathering. 
As an affordable alternative, ask each of your coworkers to bring their favorite chocolate candy to the next team meeting and allow everyone some time to explain their top choice. This will get your coworkers talking and comparing their favorites!
7. Virtual Snack Boxes
Sending your coworkers a snack box before your next virtual happy hour is a great way to show your appreciation and go the extra mile. Each team member can sit back and enjoy chatting with other team members without having to prepare something to eat in advance. 
Incorporating a snack box into your virtual happy hour gives everyone something to look forward to because it will arrive in advance! Everyone will come to the event ready to engage in conversation and laugh with their colleagues. Many allow you to customize the box with your company logo or include some company swag to add a personal touch.
8. Virtual Cooking Classes
There is nothing that brings people together more than food! That is why one of our favorite virtual happy hour activities is a cooking class. Virtual cooking classes and team-building events are an excellent way for your team to bond, build new skills, and, the best part, taste their creations!
You can plan this virtual happy hour activity as a DIY event or hire a chef. If you have a smaller budget and need to stick to virtual happy hour ideas that you can execute within your team, ask everyone to share their favorite recipes. Let the team vote on their favorite – this will get them excited and invested! Then, the person who submitted it can give a cooking demonstration over Zoom. If you choose to hire a professional, a chef will keep everyone engaged while coworkers will chat throughout the cooking process. We recommend sending your team a kit with all the ingredients they will need to make their chosen dish, but you can also provide a shopping list and ask everyone to gather them.
The best thing is that you can turn this into a virtual team-building game later on. When coworkers make this recipe at home, ask them to take a picture to share with the team!
Virtual Happy Hour Games and Activities
What is a virtual happy hour without some friendly competition? If you're looking for ideas to liven up your next team gathering, we definitely suggest an activity or a game. This next section contains games suitable for newer teams still getting to know each other and experiences like a virtual escape room or charades. No matter your choice, these will surely get the competitive juices flowing.
9. Icebreakers
Getting to know new coworkers might seem intimidating at first. Many people struggle to find the right way to initiate a conversation, especially in a virtual environment. Fortunately, we have some tips to get your employees comfortable and "break the ice."
Icebreakers can be fun and simple questions to encourage everyone to share more about themselves. They help coworkers get to know each other a bit more personally and build team morale by allowing everyone to learn about each other outside of the office. Check out our thorough list of virtual team-building icebreakers in the first section of this blog post for ideas.
10. Scattergories Online
Scattergories is a fun game that rewards players for thinking creatively. First, choose a category at random – animals, spicy foods, or things you throw away. Next, choose a single letter of the alphabet. Finally, give participants one minute to write down as many answers as possible, starting with the selected letter and fitting that category.
For example, if the category is items in a kitchen and the chosen letter is F, you might write down a fork, food processor, or frying pan. At the end of the minute, each player reveals their list one item at a time. If any other player has written down the same answer, both are stricken from the record. Only the answers that no one else has count toward the score! Of course, creative liberties with each category are allowed but be prepared for a lively debate regarding why your answer should count. Scattergories online is a fantastic way to encourage outside-the-box thinking and can liven up any virtual happy hour.
11. Virtual Trivia
Virtual trivia makes almost every list of happy hour ideas, and rightfully so! Teams love getting together and testing their knowledge in a good old-fashioned way. It also gives coworkers a chance to show off their niche knowledge of certain categories – you might be shocked to find out who knows everything about The Simpsons or the countries in Africa.  Coworkers will learn more about their teammates as they work together to try and come out on top. You can even include a prize for the winning team at the end!
There are several types of virtual trivia. You can choose an event with a set number of questions that everyone must answer, and the person or team with the most correct answers wins. The other option is rapid-fire trivia (our favorite!) which really gets the crowd going. In rapid-fire trivia, teams must answer as many questions as they can in a certain time period. The added sense of urgency makes it really fun to see which answers people blurt out. Whichever you choose, virtual trivia will help your team get to know each other and everyone's niche hobbies and interests.
12. Scavenger Hunts
A virtual scavenger hunt is a great option if you want to get everyone up and moving around. To do it, send your coworkers a checklist of items they need to find. Challenge them to locate as many items on the list as possible using their immediate surroundings. To make it more fun, don't send the list in advance! Let everyone run around their home office or their entire house to find the items on the list as quickly as they can. This virtual happy hour game can be played individually or in teams. If working together as a group, maybe one person doesn't have it handy, but maybe someone else on the team does! When time is up, every team shows what they were able to collect and earns one point for each item located. This is a great way to get your team interacting and laughing together on a budget!
13. Virtual Escape Room
Virtual escape rooms require teamwork, collaboration, and communication. They are the perfect virtual happy hour idea for teams of any size. They are the highest-rated experience by coworkers choosing virtual games! Teams encounter a series of puzzles and challenges and must problem-solve together to find codes and solutions.
You can all work together and race against the clock if you have a smaller team. If you have a larger group, you can split into smaller teams and race each other – who doesn't love some friendly competition? A virtual escape room is something your employees will love and be thankful that they had the chance to play. It is also one of the most interactive team building events available.
14. Charades
Finally, a good reason to be on mute! The classic party game of Charades can be brought to your next virtual happy hour to get your coworkers out of their seats and laughing alongside one another. This event is easy to set up internally and is always a hit. First, divide your group into two teams. Each team writes down a list of movie titles, songs, or books for the other team. Then, taking turns, one person on each team will randomly have the chance to act out the other team's choice. We recommend sending the choice to the actor through private chat so no one else can see it.
Time each team to see how long it takes them to guess the correct answer. The team with the lowest total time wins! After that, everyone will have a fantastic time making silly faces and flexing their creative muscles without saying a word!
15. Virtual Comedy Experiences
No two-drink minimum is required for this comedy show, though you are welcome to encourage attendees to bring whatever they want to drink to their computer! Take the experience of going to an in-person comedy show and put a virtual spin on it for your next team happy hour. Everyone gets to enjoy the hilarity from the comfort of their own homes.
Inviting a professional entertainer to delight the entire team is a must. Virtually has many talented entertainers who will keep your coworkers entertained. Virtual comedy is the way to go if you're looking for a virtual happy hour idea that doesn't require participants to interact with one another but allows them to kick back and relax.
16. Don't Say It (Taboo)
You have probably heard of Taboo, the word-guessing game in which you can't use the words on the card! Taboo is always a team favorite regarding virtual work happy hour ideas. This fun party game will liven up your virtual happy hour by having everyone around you attempting to guess the word or phrase that's just on the tip of your tongue. The best part is that you can plan and execute this yourself.
Everyone needs a copy of the game Taboo. If employees don't already have it, you could consider sending it to them – they will certainly appreciate getting to keep this game after the event is over! First, divide your group into teams. One at a time, players take turns getting their team to guess as many words as possible in one minute. They need their team to guess the word at the top of the card, but be careful – you are not allowed to say any of the words below. Sometimes it is tempting to say them since you can see them on the card! Players must think outside the box to get their team on the same wavelength. After everyone has had a chance to play, the team with the most correct answers wins. 
Pro tip: If teams have an uneven number of players, the team with the fewest players should have one player go twice!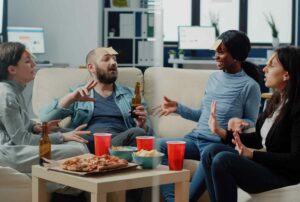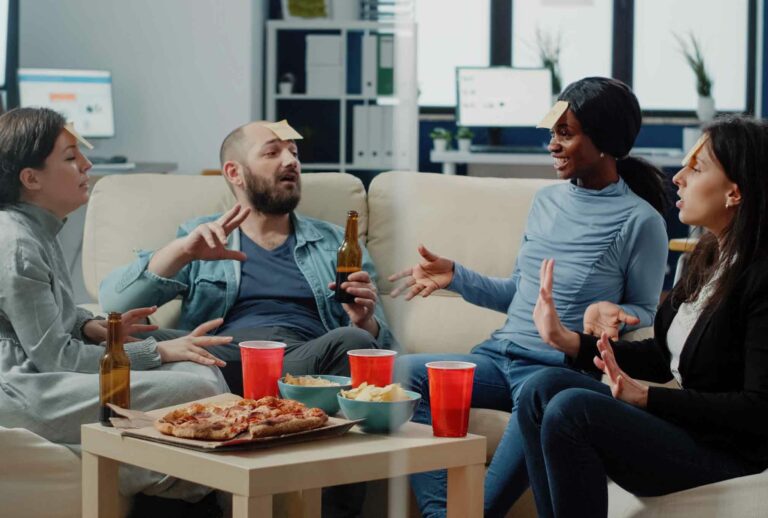 17. Heads Up
Heads Up is a party game in which players guess a person, place, or thing that appears on screen! All you need is the Heads Up app on your phone, and it's easy to play over Zoom. Each player should have the app downloaded onto their own phone. Players can choose any category, and at the start of each round, they need to hold their phone against their forehead. Of course, they cannot see the answer, so it's up to the rest of the team to give enough hints and suggestions to answer without giving it away (just like in Taboo).
There is just one catch to make this work over Zoom. Before each participant takes their turn, they must click their video on the screen and select hide self view. This will allow them to remain on camera so that everyone else can see them, but they will not be able to see the answer reflected back on their screen. Nevertheless, Heads Up is a fantastic game to play with your coworkers.
18. One Night Werewolf
One Night Werewolf is a social deduction game similar to the popular computer game Mafia. This is an easy game to set up as a team. First, choose a narrator who is quick on their feet and can provide some storyline as the game is played. It should be someone creative who can come up with ideas on the spot! Then, divide everyone into two groups – the villagers and the werewolves. The narrator should do this privately through the chat function, so no one else knows.
The game is divided into two stages – night and day. The game starts at the night stage, with the narrator leading the action. Everyone closes their eyes throughout the duration of the night stage. At the end of the night stage, the werewolves open their eyes to identify the other werewolves. The narrator then shifts the game to the day stage, and everyone opens their eyes. The whole group works together in an attempt to identify the werewolves. 
The goal of the villagers is to correctly identify a werewolf, while the goal of the werewolves is to evade capture! A lively debate should ensue, and at the end, everyone chooses one person who they think is a werewolf. Whoever receives the most votes is "killed." If a werewolf is chosen, the team of villagers wins.  If a villager is chosen, the werewolves win.
Virtual Murder Mystery
A virtual murder mystery is the perfect way for your team to put their crime-solving skills to the test! This is definitely a virtual happy hour game that you will want to outsource to a company skilled in executing this type of event. Some companies ask you to review physical evidence to solve a crime, while others include live actors as part of the experience!
In this one, teams review various pieces of evidence and one-by-one interview each suspect to understand what happened. Their goal is to identify alibis, determine motives, and determine when a suspect is not telling the truth. Figuring out which questions to ask and piecing together the answers is all part of the game. As teams work together to interrogate, they get to review text messages, examine social media posts, analyze DNA findings, and even listen to voicemails. Teams must work together and pay close attention. No detail is too small! Ultimately, teams have time to deliberate and make their final accusations. Finally, the killer is revealed, and a winner is crowned!
19. Online Tour Guide Experiences
Did you know you can take your team on a trip to Europe without buying them plane tickets? Now you can! When brainstorming team virtual happy hour ideas, this is a fairly new concept that should be considered. A virtual tour is an opportunity for your team to sit back, relax and converse with each other while they get a front-row view of some of the world's most famous cities and landmarks!
If you choose to hire an organizer, several different companies can set up and plan this type of experience for you. 
For example, Woyago allows your team to see Paris through a local's eyes. If you prefer to save money and plan this experience yourself, you can also search for free options on sites like Youtube. Invite your coworkers to bring a drink and enjoy some food as they embark on their virtual tour guide experience. If you want to reward your team with an all-expenses paid trip but need more money – this is your ticket!
20. Virtual Bingo
One of our favorite ideas for the team is virtual bingo, the exciting combination of numbers and letters! It's a classic party game that everyone already knows, so there is no learning curve or unfair advantage. Many times it is hosted by a live caller, meaning your whole team gets to play! It always starts with an overview of the rules. From there, all participants receive their unique and randomly generated five-by-five bingo cards with their unique combination of numbers.
As the caller announces the draws, each call-out will be displayed on the screen for all participants. If you host this virtual happy hour game over Zoom (which we recommend), participants can use their mouse to mark off the squares on their cards. The bingo rounds will vary from five across to four corners and even a full card. Players are looking to be the first to have their numbers called and be able to yell out "Bingo!" to win! And the best part is that you can choose custom words instead of numbers to appear on the cards. Choose things meaningful to your company or team!
21. Gartic Phone
Gartic Phone is a hilarious combination of telephone and pictionary, with everything getting lost in translation! To do this, everyone will need to download the game from the app store, but there is a free version. Everyone on the team starts by writing a simple sentence – nothing too elaborate or difficult to understand. After each sentence has been entered, players will each get one at random. It is now your job to turn that sentence into a work of art by doing your best to draw an accurate representation of the sentence without using any words. After each drawing has been completed, the pictures are randomly assigned again, leaving you with an image that is up to you to interpret. Everyone must try their best to describe the drawing in their own words in a simple and easy-to-understand sentence. Repeat this process until every person has been given a chance to create their spin on your original idea. Part problem-solving and part creative interpretation, liven up your next virtual happy hour by seeing how quickly different people can change and rearrange your simple ideas. Expert drawing skills are undoubtedly optional and are discouraged!
23. Online Magic Shows
Pick a card, any card, and get ready to be amazed! Next up on our list of ideas is an online magic show. Gather the whole team together to be joined by a magician performing illusions right before their eyes. It is sometimes hard to believe it isn't camera tricks or clever editing – just the joy of close-up magic from the comfort of your home! Whether performing classic card tricks or making everyday objects disappear, your team will be enthralled by a lively host accomplishing illusions that have to be seen to believe.
24. Paint & Sip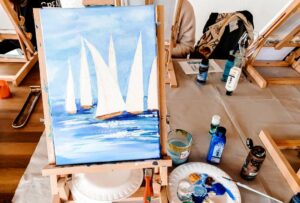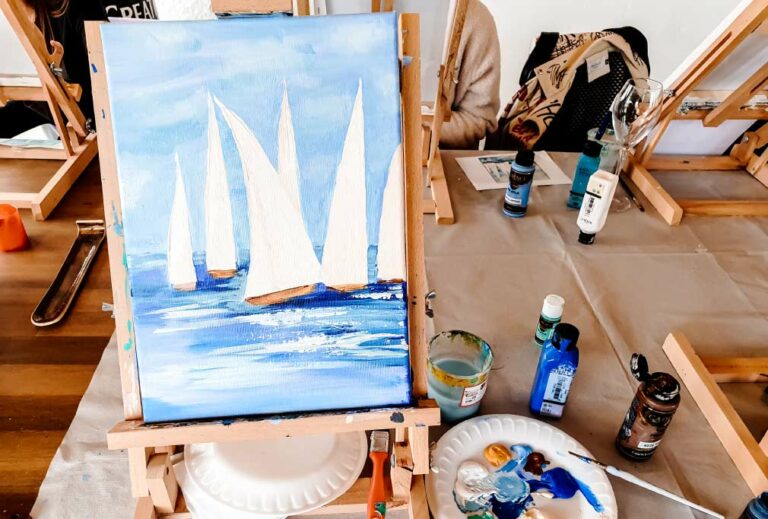 For this virtual happy hour idea, have your team break out their art supplies and encourage them to bring along their favorite beverages for an activity sure to ignite a creative spark. If you want to host this activity independently, decide what you will all paint as a team. Have each participant bring paints or crayons and display the painting on the screen. Everyone will work together to create their work of art, matching the original as closely as possible. When you are finished, go around and have everyone showcase their finished products.
If you have the budget, you can also bring in an artist to facilitate and guide everyone through a painting. This painting event through TeamClass is a great option. Kits are shipped to each participant with all the necessary supplies needed, including paints, brushes, and a canvas. On the event day, everyone logs on and follows along as
 the instructor walks everyone through each step of the selected painting. In the end, participants are left with their very own masterpieces. Trust us, no two paintings will be exactly alike, but everyone will have a great new addition to their home offices!
Virtual Happy Hour Tips
When setting up your next virtual happy hour, remember these tips to streamline your planning: 
Figure out the best fit for your team size. Do you want to all do something together or split your group into smaller teams?

You will need to decide whether your goal is an interactive activity or an opportunity for everyone to sit back and relax.

We always suggest asking your team for their suggestions. Do they want to play a game? Do they want to eat and drink? Or do they want to do both? Compile the top options, and for an extra touch, ask your team to vote! This will make your team invested in the experience and excited to get together outside work.

Determine your budget in advance. This will help you decide whether you want to bring in professionals to plan your event or go the DIY route. By handing off the planning, you can focus on being present with your team while someone else does the heavy lifting. 

At Escapely, we pride ourselves on caring for everything so our clients can sit back and enjoy. Still, if you are working with a budget, the awesome DIY games for a virtual happy hour on this list will engage your team and spruce up your next meeting.
Investing in your employees and creating a way for them to spend time with one another outside of work is so important. Hosting a virtual happy hour regularly allows team members to reconnect and interact with one another in an environment outside of work. They will share life updates, learn new things about each other, and have fun. Any of the above fun virtual happy hour ideas are certain to boost morale and engagement!